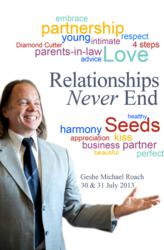 My Wife Has Lost Interest In Sex, But I Haven't! What's The Karma To Get The Heat Back Into Our Relationship?
Singapore (PRWEB) May 30, 2013
Geshe Michael Roach, the unorthodox and dynamic teacher of eastern philosophy will be back in Singapore at the end of July to launch his first book in five years, The Karma of Love, and to share the secret of relationship.
Roach spent 25 years in a Tibetan monastery in the US, and has been cited as the first American in history to receive the coveted Tibetan title of Geshe, or Master of Buddhism. He then applied the eastern wisdom he had mastered to help found Andin International, a diamond company that grew from a US$50,000 loan to having a turnover of US $250 million, before being sold to super-investor Warren Buffet in 2009. He now tours the world teaching people how to be successful financially and personally using this same wisdom.
This year alone, he has travelled to Mexico, Germany, Russia, France, the Bahamas, and in July will conduct his annual Asian tour, working with a diverse range of companies to help them approach their business operations in an entirely different and perhaps almost counter-intuitive way.
In Singapore in July, Geshe Micheal will present a two night public talk and a three day retreat focussing on creating both personal and business relationships that never end. During his teachings he will reveal the top three relationship problems that most people face, like how to look for the perfect partner or how to ignite the passion in a ten year marriage. He will explain how to maintain great relationships with business partners, solve in-law problems once and for all and create perfect interpersonal relationships with everyone.
In conjunction with this, Singapore will be the first city in Asia to enjoy the launch of Geshe Michael's new book, The Karma of Love. Billed as a relationship advice book unlike any seen before, the book consists of answers to 100 questions audiences all over the world asked Geshe Michael during his decades of his teaching about the Karma of Love. Written in a readable, conversational tone, these questions and answers reveal the 'secret' of how to find a partner, keep them, and achieve lasting happiness together.
Some of these questions include: "What's the karma to get my husband to hug me? To get my wife's loss interest in sex back again? Can I use karma to stop my girlfriend from texting other guys? Is it possible for physical intimacy to be spiritual? How can we use our relationship to help the world?"
The answers are drawn from the teachings of The Diamond Cutter, which is the oldest dated printed book in the world and here, Michael Roach applies the world-changing ideas of his first book, the international personal success bestseller— The Diamond Cutter—to every aspect of a relationship: trust, communication, addictions, fun, in-laws, sex, peace, and self-esteem.
Geshe Micheal Roach's public talks will be held on 30 and 31 July 2013 at Shine Auditorium and the retreat will run from 2 - 4 August 2013.
For more information, please visit http://www.DiamondWisdom.sg
About Diamond Wisdom
Diamond Wisdom Pte Ltd is to organise business seminar, business retreats and follow-up coaching sessions by Geshe Michael Roach in Singapore. We are especially committed to being the South East Asian organiser and hub for the 12 Diamond Cutter Institute retreats Geshe Michael will teach around the world over the next six years. Geshe Michael Roach wrote two best-selling business books, The Diamond Cutter - The Buddha On Managing Your Business And Your Life and Karmic Management - What Goes Around Comes Around In Your Business and Your Life. His latest book, The Karma of Love, will be available in Singapore in August 2013.