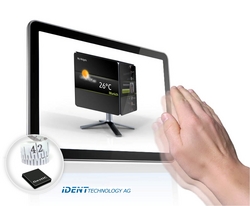 ...we'll see a realization of revolutionary user interfaces for mobile and consumer electronics products ...in the near future...
Weßling, Germany (PRWEB) April 6, 2011
IDENT Technology AG, developer of gesture recognition solutions, has received a new round of investment to develop its GestIC 3D gesture control chip solution using a fabless semiconductor business model. GestIC is aimed at the high-growth 3D gesture control market and allows consumer electronics manufacturers to implement a new generation of user interfaces using any type of free space gesture to control functions of a product.
Existing investors MIG Associated Fonds and Danube Equity have continued their investment in IDENT Technology AG to allow it to further develop and market GestIC and the related EZApplication range of software solutions.
Michael Motschmann, CEO of MIG Fonds AG, said, "IDENT Technology AG is one of our most exciting high-tech investments. We truly believe the technology will revolutionize the way humans interact with electronic devices. Our investment will help IDENT to become a fabless company, develop GestIC, and accelerate market penetration for its technology."
GestIC is a unique technology that addresses a broad range of consumer electronic application needs. It enables simultaneous implementation of user interfaces ranging from simple one-dimensional touch to sophisticated 3D gesture recognition in the same chip. The control chip's true 3D gesture sensing capabilities allow detection and tracking of hand or finger movements over a device's surface or display; it then converts those movements into gesture commands or co-ordinates them to control consumer products.
Dr. Roland Aubauer, chief technology officer of IDENT Technology, commented, "We are pleased that our existing investors share our confidence in our award-winning technology." Dr. Aubauer says the opportunity for this is significant, adding, "We are already engaged with key tier-one consumer electronics manufacturers to bring this disruptive gesture control technology to the mass market. We are sure we'll see a realization of revolutionary user interfaces for mobile and consumer electronics products that will be shifting the landscape on how we will be interacting with our gadgets in the near future."
Unlike any other gesture control system, GestIC utilizes near-field electric sensing. In comparison to other technologies such as optical camera based systems, it works independently of the ambient environment, and offers real time response time with jitter-free accuracy and very low power consumption. GestIC is part of IDENT Technology's patented and scalable Z-Sense(TM) core technology pool.
Editors Notes
About IDENT Technology AG
IDENT Technology AG is the industry's leading provider of intellectual property and semiconductor products for electrical near field sensing solutions. These enable intelligent proximity sensing and real-time 3D gesture control for the consumer electronics industry, including mobile, gaming and other input devices. Utilizing the company's scalable and patented Z-Sense technology allows realization of disruptive human interface features, making products much smarter than previously possible and enabling natural intuitive use. IDENT Technology's solutions combined with the EZApplication software suite containing a library of 1D touch to 3D gesture recognition solutions enables manufacturers to quickly bring to market products which no longer require buttons or keys to switch a device on or off, to start applications, to point, click, zoom, scroll and more on any consumer electronics device.
For more information about gesture recognition technology or the GestIC 3D gesture control chip, visit http://www.ident-technology.com.
###