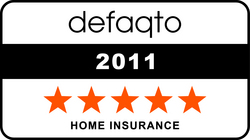 We are extremely proud to have been awarded a 5 Star Rating from Defaqto in response to our Home Insurance product enhancements.
(PRWeb UK) February 2, 2011
RIAS Home Insurance, from the over 50s specialist insurance provider, has received the top 5 Star Rating from independent and impartial financial research company Defaqto, highlighting an excellent level of features.
As a result of upgrading the range of key features and benefits which RIAS understands to be important to its diverse customer base, RIAS Home Insurance now includes the following:

Trace and Access cover up to £5,000, to cover any costs customers have to pay to find out where a water or oil leak is coming from, including the cost of repair to walls, floors and ceilings;
Contents at university cover up to £5,000, an increase of £2,000 for students living away from home;
Loss or Damage to downloaded data to the value of £2,500, ensuring customers are covered for any non
recoverable electronic data downloaded;
Protection against theft by bogus officials up to £500 if someone pretending to be an official gains entry into a home and steals items;
Professional counselling fees cover up to £1,000 to support victims of crime overcome emotional and physical anxieties following an incident; and
Cover for deeds and documents, up from £500 to £2,500.
Mike Powell, Defaqto's Insight Analyst for General Insurance, said: "When buying home insurance it is essential that people match the features and benefits they need with those provided by the product they choose. Our Star Ratings provide an independent rating of the overall level of features offered by all home insurance products on the market. The key is for people to select the right level product for their needs – and for someone who has more comprehensive requirements a 5 Star rated policy may be the most appropriate."
In addition, the extensive Home Insurance product from RIAS also includes cover for carers' and guests' contents whilst in the property; damage to property caused by emergency services; property in the open air, for example a car port; and legal protection against squatters.
Defaqto specialise in rating, comparing and analysing financial products in the market and cover over 30,000 products across pensions, life, banking, investments and general insurance. The Star Rating scheme reflects the overall level of features and benefits provided by a product. Ranging from a 1 Star for simple features to 5 Stars for comprehensive features they help consumers to choose the best overall product for their needs.
Janet Connor, Managing Director at RIAS comments: "We are extremely proud to have been awarded a 5 Star Rating from Defaqto in response to our Home Insurance product enhancements. We believe it's incredibly important to continually review our product offering and to constantly ensure that our customers are getting the high standards of both cover and service that we understand they want, and know that they deserve.
"We know that home insurance plays a crucial part in providing security for our customers, enabling them to protect what's important to them and their families. Our customers will truly benefit from our excellent level of features and benefits RIAS Home Insurance provides, ensuring complete cover should customers need to make a claim."
RIAS customers can also tailor their home insurance policies to their needs and requirements by choosing to add a range of extra covers to their policy including Home Emergency cover, for £67 a year, Garden Secure, for just £32 a year, and Key Protection, at £19 a year.
For more information about the 5 Star Rated RIAS Home Insurance as well as the full range of products available, call 0800 561 0711 or visit http://www.rias.co.uk.
About RIAS
RIAS was established in 1992 and is a specialist award-winning provider of insurance products for the over 50s age group.
Part of Ageas (Insurance UK) Limited, RIAS has nearly a million motor, home and travel insurance customers and employs over 1,100 people across two UK sites. RIAS negotiates with a panel of insurers to secure competitive, value for money products.
Ageas (formerly Fortis UK) is a leading provider of award-winning Personal, Commercial and Protection insurance solutions in the UK. Ageas UK distributes both its non-life and life products through a range of channels including brokers, IFAs, intermediaries, affinity partners and the Internet, as well as through its retail strategy via its wholly or partially-owned companies (RIAS, Ageas Insurance Solutions, Kwik-Fit Insurance Services, Text2Insure and InsureTech Systems).
Insuring in the region of 7.6 million customers and working with a range of partners, Ageas is recognised for delivering consistent and high-quality customer experiences. It employs almost 4,000 people with a head office based in Eastleigh and others based in Belfast, Bournemouth, Gloucester, Haywards Heath, London, Glasgow, Birmingham, Redditch, Reigate and Stoke-on-Trent.
# # #