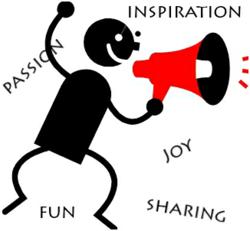 As Genevieve says, "Christmas is going to be extra sweet this year."
LONDON, ENGLAND (PRWEB) November 30, 2012
What have being passionate and the common cold got in common?
"They are both infectious and spread like wildfire", scientists say.
There is no better time than the festive period to spread joy to friends and family, but also to people we don't know, somewhere across the globe. That's why jobs and careers coach, Genevieve de Lacaze is celebrating the launch of her book 'Passion Pays: How to make a living from your passions… and change the world too' by giving more passionate people an opportunity to share their story and giving away two copies to the winners of the Passion Pays: Inspire the World contest. It's all about giving and receiving. Genevieve knows the power of positive role models. She hosts the Get Passionate Radio show chatting with passionate people and her Passion Pays book features 30 inspiring men and women making a living doing what they love.
"This is really a celebration of human potential by way of giving the gift of contagious, real, inspiring stories" says Genevieve, aka GenieCoach. "We're getting into the festive giving spirit and in the Passion Pays style, we want to include some real life passionate people sharing inspiring messages."
All contestants have to do to inspire the world and win global publicity and a copy of Passion Pays is go to the contest page at http://wp.me/p23Hsf-b6 and answer one or more of four fun, thought-provoking questions in any way they want by 14th December 12:00 GMT. The questions were taken from one of Genevieve's free downloads at http:gdltransitions.com, 50 Big Questions to Ask Yourself (preferably) Before You Die. In true giving and receiving spirit, contestants are encouraged to just have fun, spread the joy and get their creative juices flowing. They can become a fan of Passion Pays too.
All entries will be considered by Genevieve and her helpers (including her dog) and the two winners will be announced on Saturday 15th December. The winners will see their stories parade all over the internet and will receive their own free paper copy of Passion Pays. As Genevieve says, "Christmas is going to be extra sweet this year."
For more information or to enter the contest, go to:
http://passionpaysbook.com/2012/11/30/how-you-can-get-free-global-publicity-inspire-the-world-and-win-a-copy-of-passion-pays-until-14th-dec/
About Genevieve de Lacaze
Genevieve de Lacaze is a jobs and career coach and a humanitarian who loves creating passionate conversations and ventures to uplift people in their life and career choices. She writes articles, delivers presentations and workshops on many empowering subjects in Europe, USA and Central America. She hosts the Get Passionate Radio Show.
She is the Official Expert Guide on Career Development at Selfgrowth.com, #1 self-improvement website and the Intl Head of Continuous Professional Development at the International Institute of Coaching (IIC).
But really. just an ordinary girl. changing the world. one passion at a time.