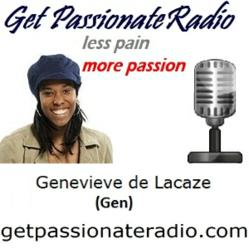 If you want similar or better results about the next steps in your career, you do not want to miss this episode." says Genevieve
London, England (PRWEB) February 28, 2013
Many people don't know what they want or they want much less than they deserve. But if they don't even allow themselves to find out what they really want, they don't stand much chance of getting it. That is why this first episode of the 'Get Passionate' radio show is a crucial starting point. Genevieve will help personally and for free, the first two people who email her with their homework. She also prepared a slide presentation and a comprehensive workbook with added information and bonuses to give the necessary structure to those who are committed to applying the techniques.
"In this two-part episode, I lay out the 5 steps that I applied to go, in one week, from a blurry idea and uncertain future I couldn't even formulate, to finding 3 helpers, 4 strategies, a list of role models and a roadmap to carry out my vision. If you want similar or better results about the next steps in your career, you do not want to miss this episode," says Genevieve.
The "Get Clear On What You Really Want in 5 Mind-blowing Steps" episode is based on the first stage of Genevieve's book "Passion Pays: How to Make a Living From Your Passions… and Change the World Too". In episodes from Stage 1 (S1), 'Understand Your Passions, Fundamentally', listeners are given numerous tips to explore their view of the world and understand themselves better. A list of topics examples can be found on the radio's website: http://getpassionateradio.com .
"I have worked with many people looking for career advice and there are two factors that set apart those who are still enjoying great success. One: constantly exploring new ideas and two: following through with confident action. I want people to experience for themselves how these mere two factors can change their life and there is no better way than leading by example," adds Genevieve.
The four stages of the book will be followed over four weeks, with topics ranging from personal development to ideas to earn money, including marketing strategies. Genevieve avoids the one-dimensional attributes of many self-help experts by teasing people, in her trademark Show-Rather-Than-Tell style, into solving their own problems. More information on the four stages can be found on the Passion Pays book website: http://passionpaysbook.com.
About Genevieve de Lacaze
Genevieve de Lacaze is a job and career change expert and a humanitarian who loves creating passionate conversations and ventures to uplift people in their life and career choices. She writes articles, delivers presentations and workshops on many empowering subjects in Europe, USA and Central America.
She is the author of 'Passion Pays: How to Make a Living From Your Passions… and Change the World too.'
She hosts the Get Passionate Radio Show.
She is the Official Expert Guide on Career Development at Selfgrowth.com, #1 self-improvement website and the Intl Head of Continuous Professional Development at the International Institute of Coaching (IIC).
But really. just an ordinary girl. changing the world. one passion at a time.