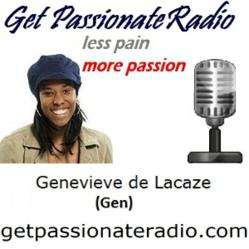 Throughout the year, topics range from personal development to ideas to earn money, including marketing strategies
London, England (PRWEB) February 28, 2013
The career advice 'Get Passionate' radio show, hosted by Genevieve de Lacaze, jobs and career expert will address throughout the year, topics ranging from personal development to ideas to earn money, including marketing strategies. Genevieve avoids the one-dimensional attributes of many self-help experts by teasing people, in her trademark Show-Rather-Than-Tell style, into solving their own problems. She serves as the show's "guinea pig" and offers extra help and bonuses after each episode.
The radio show is based on the following four stages of Genevieve's book "Passion Pays: How to Make a Living From Your Passions… and Change the World Too", with the episodes "Get clear on What You Really Want in 5 Mind-blowing Steps" and "Why you should get fired" already scheduled for 1st and 7th March, respectively:
--Stage 1: Understand Your Passions, Fundamentally
In week 1 episodes, listeners are given numerous tips to explore their view of the world and understand themselves better. The focus is on getting clarity about who we are, what we want for ourselves and others, the change(s) we want to see in the world, the reasons why we want what we want. Topics examples:

The different aspects of the self
Mind, Body, Spirit (exploration, practices, techniques)
Beliefs and Values systems (individual and collective)
Finding Purpose and Meaning
Different perspectives of the world (and universe!)
Promoting better world systems/structures (challenging the status quo, anywhere from global to local levels)
Finding Passion(s) and creativity
Discovering talent and potential
Heart intelligence
The world of work
Clarity/Focus
Staying true to oneself /standing out from the masses
-- Stage 2: Build Your Expertise, Naturally
In week 2 episodes, listeners are able to follow through and learn different ways to maximise their skills and potential by cultivating what Genevieve calls "the opportunity and growth mindset" as opposed to the "adversity and breakdown mindset". Topics examples:

Developing strengths
Acknowledging and minimising weaknesses
Clearing your environment and people
Attitude and commitment
Making choices
Getting Support (how to, where, who)*
Goal setting/planning/road mapping
Saving money and money management
Patience and time management (using time effectively)
Productivity and organisation (80/20 principles, optimising our energy)
Gaining knowledge, skills and experience
Gathering inner-resources: personal development*
Playing and testing (including volunteering opportunities)
Opportunity and growth mindset*
--Stage 3: Deliver Your Value, Powerfully
In week 3 episodes, listeners build on their individuality, knowledge and skills to actively connect with the right people and start making things happen confidently. Guidance and tips on dealing with fears and tools on communication are prevalent here. Topics examples:

Marketing (general, branding, public relations, internet marketing, social media, speaking, writing, blogging, publicity, etc)
Different avenues of creativity (creating branches of work)
(Passionate) Communication skills
Leadership
Networking
Partnerships
Negotiating
Fears / mistakes / illusions
Managing emotions (eg. rejection, anxiety, fears, discouragement, desperation, anger, self-criticism, resentment, jealousy, greed)
Being before doing
Luck and manifestation
Manifestation scale*
Acting bold: Choose You attitude*
--Stage 4: Get Paid, Rightfully
In week 4 episodes, listeners are guided through powerful strategies to put everything together and "sell their value" in the job market. Listeners also get to appreciate their fulfilment needs. Topics examples:

Different sources of income (where and how to get them)
Seeking opportunity rather than security*
How passion pays others*
Linking value and pay*
Selling techniques
Prosperity/wealth/abundance mentality/mindset (relationship with money)
Gratitude
Maintaining Passion in challenging times*
Balance (including how to say 'No')
Creative thinking
Quality vs quantity*
Engaging Youth*
Different ways we can get paid
*Specifically based on a technique/theory from the Passion Pays book.
About Genevieve de Lacaze
Genevieve de Lacaze is a job and career change expert and a humanitarian who loves creating passionate conversations and ventures to uplift people in their life and career choices. She writes articles, delivers presentations and workshops on many empowering subjects in Europe, USA and Central America.
She is the author of Passion Pays: How to Make a Living From Your Passions… and Change the World too.
She hosts the Get Passionate Radio Show.
She is the Official Expert Guide on Career Development at Selfgrowth.com, #1 self-improvement website and the Intl Head of Continuous Professional Development at the International Institute of Coaching (IIC).
But really. just an ordinary girl. changing the world. one passion at a time.