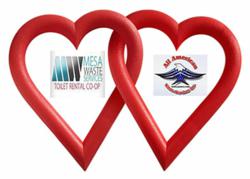 Providing US Mobile Restroom Sanitation Solutions
(PRWEB) May 31, 2013
For high-class events and those that span several days, hiring a porta potty rental attendant for your portable toilets is highly recommended.
Ben G. of Mesa Waste Services says that "an experienced portable toilet attendant, will ensure that guests constantly have access to fully stocked, well-maintained units". Todd T. of All American Waste Services says "Our professional attendants are incredibly skilled at working in the background, ensuring that their presence never overshadows the guests' needs or the event; however, they will be available to answer any questions or queries should you need them to".
Always in uniform and always professional, the Mesa Waste and All American Waste attendants combined, can make any event run more smoothly. Vendors may keep the toilets stocked, and may include, but not limited to :replacing toilet rolls, soap, hand sanitizer, and more so guests will have great restroom experiences, throughout the event being held. These attendants also empty full units and carry out cleaning duties, ensuring that the units remain spotless, smell fresh, and stay open throughout the entire event. If you are holding a longer event, their vendors arrange for a staff member to come and empty all of the toilets on a regular basis, so that you can order only the amount of units instead of ordering extra to use during maintenance.
Having an attendant for your portable toilet is a fantastic way of taking the stress out of your event. By hiring Mesa Waste and All American Waste attendants, their is no need to worry about complaints regarding the bathroom facilities or handing maintenance, allowing focus on giving event guests a fantastic time.