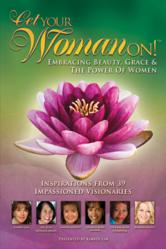 (PRWEB) June 28, 2011
All women and women's groups are invited to join the Gala VIP celebration and Amazon book launch of "Get Your Woman On" to be held in Dallas, Texas, on July 13, 2011. Sandra Yancey, celebrity author and founder of eWomen Network, will be hosting the 11th annual international conference and business expo July 14th thru July 17th, 2011, at the Hyatt Regency in Dallas, Texas. This is the largest 4 day women's conference in North America. The opportunity to network with this culture of women helping women will tremendously enrich lives and businesses and provide access to resources and support.
"Get Your Woman On" is produced by Kimber Lim. Best selling author, visionary, and business adviser to over 100,000 entrepreneurs and CEOs for over 25 years, Kimber is passionate in her belief that all women can live in their full beauty, grace, and power, and have financial success! She interviewed women from all over the world, several with international acclaim, and many "everyday heroes" all committed to making a difference in the world. 39 women share their inspirations in the soon to be released paperback and multimedia book. Connecting "heart to heart" is the basis for growing relationships and doing future business in the new economy.
Kimber's breakout session for the expo will be Friday, July 15, 2011. "Unreasonable success and living a life of balance": learn how she and her clients have created billions of dollars in revenues! For more information and to receive a code for generously discounted tickets visit: http://www.GetYourWomanOnBook.net.
# # #