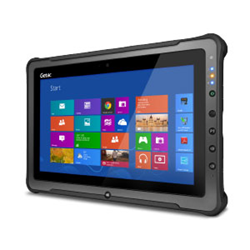 The Getac F110's thin light-weight design is very popular among Group Mobile's tablet users. The handstrap is an essential accessory and provides users a sturdy, comfortable grip on the F110.
Chandler, Arizona (PRWEB) October 07, 2014
Group Mobile, well known for carrying the top brands in rugged laptops, rugged tablet PCs, rugged SmartPhones, and rugged handheld computers is now offering, for a limited time, a bracket and handstrap with each purchase of the Getac F110 tablet at no charge. The bracket with handstrap attaches to the Getac tablet and provides flexibility in carrying options when used with an optional shoulder strap, shoulder harness, or soft handle.
"We are excited to offer this special bundle on the Getac F110 to our customers," said Linda Flaherty, sales director for Group Mobile. "The Getac F110's thin light-weight design is very popular among Group Mobile's tablet users. The handstrap is an essential accessory and provides users a sturdy, comfortable grip on the F110."
The F110 rugged tablet features Getac's revolutionary LumiBond technology to achieve a display that is more readable, and offers better contrast and more crisp colors. Getac's multi-touch display technology makes the screen respond effortlessly to touch, press, and drag motions. The F110 is less than 1 inch thick and at 3 pounds this rugged tablet is amongst the lightest large-screen, fully rugged tablets ever built.
The Getac F110 is equipped with the latest fourth generation Intel Core i5 4300U (1.9GHz) or i7 4600U (2.1GHz) processors, designed for speed, performance and battery life optimization. The i5 and i7 CPUs feature Intel Turbo Boost Technology clocking maximum speeds up to 2.9GHz and 3.3GHz, respectively. The rugged F110 also features dual hot-swappable batteries allowing for endless power by simply "swapping" in a fresh battery without needing to shut down applications or the operating system.
The fully rugged F110 is certified to MIL-STD-810G and IP65 standards for durability and protection against dirt, dust, water, motion, vibration, temperature and other factors that would quickly damage a commercial-grade tablet. It is also backed by Getac's bumper-to-bumper warranty which includes damage that occurs due to accidents and environmental exposure. *
The Getac F110 rugged tablet computer can be ordered from Group Mobile now. To learn more and take advantage of Group Mobile's exclusive offer for a free handstrap, visit http://www.groupmobile.com/product.asp/sku=6953/dept. For the free handstrap enter promo code F110HS when placing an online order, email product-sales(at)groupmobile(dot)com, or call toll free 866-RUGGED8 (866-784-4338) to speak with a rugged computer sales specialist. This exclusive offer is good until October, 31 2014.
About Group Mobile
Headquartered in Phoenix, AZ, Group Mobile serves customers all over North America. Customers range from Fortune 500 companies and the U.S. Military, to local police/fire/ambulance, to small and mid-size businesses, to the frequent traveler that needs something more durable than a commercial, off-the-shelf computer. Group Mobile carries all the leading rugged computing brands. In addition, Group Mobile offers vehicle docking and mounting equipment from Gamber Johnson, Ram Mounts, and Havis. To learn more about rugged computers and how they differ from commercial, indoor computers, check out the Rugged Computer Guide or visit us online at http://www.groupmobile.com.
About Getac
Getac is a key subsidiary of MiTAC-Synnex Business Group (2013 consolidated revenue $26.4 billion USD). Getac was established in 1989 as a joint venture with GE Aerospace to supply defense electronic products. Today, Getac's business includes rugged notebooks, rugged tablets, and rugged handheld devices for military, police, fire, utility, insurance, and field-service customers. For more information, visit us.getac.com.
*F110 comes standard with a three-year bumper-to-bumper warranty. For full details of the warranty protection, see the terms and conditions at us.getac.com.