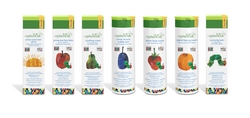 For busy moms and hectic lifestyles, convenience is key. With today's announcement, in addition to her own beauty essentials, now moms can add a complete, all natural skincare system for their babies and children to their carts at Ulta
Los Angeles, CA (PRWEB) November 22, 2010
Episencial skincare products for babies and kids are now available at Ulta, the largest US beauty retailer providing one-stop shopping for prestige, mass and salon products. Episencial, an all-natural, immune-enhancing line of baby and kids skincare products, will be conveniently carried alongside the beauty products moms shop for their own routines.
"For busy moms and hectic lifestyles, convenience is key. With today's announcement, in addition to her own beauty essentials, now moms can add a complete, all natural skincare system for their babies and children to their carts at Ulta," said Kim Walls, MS., CEO of Episencial.
The first complete and all-natural skincare line specifically for babies and kids to be carried at Ulta, Episencial will be available immediately in 30 stores and online at http://www.Ulta.com. Prices start at $5.
Episencial is the first and only professional skincare system for the developing skin type™ of babies and kids, ages 0-5. With fanciful packaging featuring the beloved artwork from Eric Carle's "The Very Hungry Caterpillar," Episencial line is designed as a three-step skincare system of clinically effective, newborn-safe products.
Step 1. Cleanse: Gently cleanse and hydrate the delicate skin of babies and kids.
• Playful Foaming Wash - ultra pure hydrating hair & body cleanser
• Sweet Dreams Bubble Bath - long-lasting bubbly gel concentrate
Step 2. Nurture: Moisturize and massage to build immunity and enhance parent-baby bonding.
• Better Body Butter - a silky soft hydrating lotion
• Massage Gel - coming soon!
Step 3. Care: Treat, relieve and protect bothered or sun-exposed skin.
• Soothing Cream - helps relieve eczema, itches & bothered skin
•Nurturing Balm - for diaper rash and sensitive areas
•Sunny Sunscreen SPF 35- water resistant protection for face & body.
•Protective Face Balm SPF 6 - provides all-over relief for chapped skin & lips
With Episencial, actively healthy families with green values have an authentic, affordable choice in all natural skin care for their children. Made exclusively from all natural ingredients and loaded with organics, Episencial is leading the chemical-free charge in personal care products for babies and kids. Moving beyond the "greenwashed" approach typical of natural products, Episencial manufactures in the U.S. using solar power and recycled and sustainable packaging.
Actively Healthy Immune Complex™ for Developing Skin:
Episencial is the first and only professional skincare system for the developing skin type™ of babies and kids, ages 0 -5. As the largest organ of the body, new skin – like babies and kids – is growing and developing into a protective barrier. And, just like babies and kids, developing skin needs special loving care to grow healthy and strong. As the first line of defense against harmful elements, healthy skin is integral to the strength of the immune system and actively supports the body's natural healing and protective ability. Episencial's all natural formulas feature an exclusive actively healthy immune complex™ to specifically care for developing skin.
About Ulta
Ulta is the largest beauty retailer that provides one-stop shopping for prestige, mass and salon products and salon services in the United States. Ulta provides affordable indulgence to its customers by combining the product breadth, value and convenience of a beauty superstore with the distinctive environment and experience of a specialty retailer. Ulta offers a unique combination of over 21,000 prestige and mass beauty products across the categories of cosmetics, fragrance, haircare, skincare, bath and body products and salon styling tools, as well as salon haircare products. Ulta also offers a full-service salon in all of its stores. The Company currently operates 356 retail stores across 38 states and also distributes its products through the Company's website: http://www.ulta.com.
ABOUT Episencial skincare... healthy skin for life:
Episencial's all natural formulas feature an exclusive actively healthy immune complex to specifically care for the developing skin type of babies and kids, ages 0 - 5. Understanding the critical function skin plays in the immune system, Episencial uses advanced skincare technology to formulate its products to first lay the basis for maintaining healthy skin and then infused the base formulas with exclusive blends of natural ingredients known to protect, support and promote immunity.
Sharing these fun and inviting products – and the care and consideration that goes into making them – with children can serve as a building block for making actively healthy choices for themselves and the planet. Episencial was founded by Kim Walls, M.S., a second-generation skin care expert from the Epicuren family, who couldn't find skin care products for her babies that met her professional standards for quality and care for the environment – so, she created her own with the help of several moms and dads. Episencial products are free from the bad stuff and loaded with good stuff to soothe and protect. The entire Episencial skincare system is safe for newborns and good for the planet.
Episencial products are available nationwide. To find a retailer near you, please visit http://www.episencial.com. Got a question? Ask us at http://www.facebook.com/episencial and follow us @Episencial for deals and updates. Sales of Episencial products benefit the company's philanthropic partner Healthy Child, Healthy World and its mission to protect children from harmful chemicals. With Episencial skincare, a lifetime of healthy skin and choices can begin from day one.
# # #