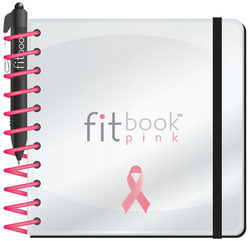 Santa Ana, CA (PRWEB) September 15, 2010
fitlosophy inc., the creator of fitbook™ and fitbook junior, is proud to announce the launch of the limited edition fitbook™ PINK in honor of breast cancer research and awareness.
fitbook is a unique 12-week planning system that provides the frame work to set goals, record workouts and log food intake on a daily basis. Available at http://www.getfitbook.com beginning October 1, 2010, fitbook PINK will contain all of the benefits of the original fitbook, only it will feature pink binding and display a pink breast cancer ribbon on its cover.
For every fitbook PINK sold, $2 will be donated to the Avon Breast Cancer Crusade whose beneficiaries range from leading cancer research and clinical centers to community-based, non-profit breast health education programs. In addition, $2 from each fitbook PINK will be donated to MyLifeLine.org, a charity dedicated to supporting the needs of cancer patients and their families and friends.
"Nearly 90% of fitbookers are women, so we make it our mission to give back and create awareness about health issues that impact our community," said Angela Manzanares, chief fitlosopher of fitlosophy, inc. "fitlosophy is excited to roll out fitbook PINK in honor of all of those impacted by breast cancer, with a special dedication to fitlosophy team member and friend Lani Merlina whose mother Donna lost her battle with breast cancer in 2008," Manzanares said.
"The MyLifeLine.org team is grateful for companies like fitlosophy who not only create tools that support health and wellness but who also educate and make a financial impact to cancer-related charities," said Marcia Donziger, Founder and Executive Director at MyLifeLine.org.
The limited edition fitbook PINK will be available online exclusively at http://www.getfitbook.com and will be released in conjunction with National Breast Cancer Awareness Month beginning in October.
About fitbook
Introducing fitbook™: the personalized, flexible, and functional fitness + nutrition journal that offers a unique 12-week system to plan for success, track your progress, and reach your goals. At just 5.5", the fitbook is small in size, but packs a punch in utility with durable plastic coil, an elastic strap to mark your place, a handy slot in the back to stash your gym card, and includes a pint-size pen. fitbook works: 75% of fitbook users have lost weight during the time they've been using their fitbook, with 81% stating that it was effective or very effective and couldn't have done it without fitbook! fitbook is proudly made in the USA on recycled paper and is available in select 24 Hour Fitness and Sport Chalet locations, as well as online at http://www.getfitbook.com.
About fitlosophy, inc.
Based in Orange County, California, fitlosophy, inc. is the creator of fitbook™, a revolutionary line of fitness journals that have transformed the way people reach their fitness goals. fitlosophy's mission is to inspire people to live a healthy, active lifestyle by motivating and supporting them with innovative products, to redefine how people integrate fitness into their lifestyle. The company's founder, Angela Manzanares, embraces a fit life and has a passion for positively influencing the lives of others. Our mantra at fitlosophy: live life fit. Learn more about fitlosophy online at http://www.getfitbook.com.
About MyLifeLine.org
MyLifeLine.org is a national 501(c)(3) nonprofit organization with a mission is to empower cancer patients and their caregivers to build an online support community of family and friends to foster connection, inspiration, and healing. We believe the outpouring of support will lift the spirits of all people touched by cancer. MyLifeLine.org is headquartered in Denver, Colorado. Learn more at http://www.MyLifeLine.org.
###