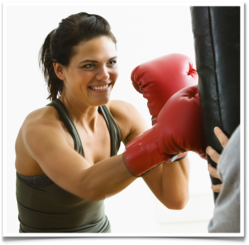 The app is GPS enabled and lets you track miles and donations.
Manhattan Beach, CA (PRWEB) June 25, 2012
GetFitDaily.com is one of the world's most visited Fitness Tips blogs. Offering daily tips and advice to women, information can be read directly from their blog, or via a daily digest email.
Today, Stacy Carlo at GetFitDaily published her latest post, titled "Help Your Favorite Charity by Working Out!"
Fitness fans can access the new blog post here:
http://getfitdaily.com/help-your-favorite-charity-working-out/
In her latest blog post, Stacy introduces her readers to a new iPhone App which tracks the miles a person runs, walks or bikes and donates the money to the users' charity of choice.
The free App is called Charity Miles.
"It does all the tracking for you and donates ten cents per mile for biking and twenty-five cents for every mile you walk or run. How cool is this" Stacy says.
Stacy explains that a GPS logs the distances covered and all information is shared via Facebook and Twitter. Nine charities are built into the App and include Autism Speaks, Habitat for Humanity and Feeding America.
She goes on to mention that the creators of Charity Miles see it as an excellent alternative to regular marketing. Also, by aggregating the followers of many charities, the App's creators are able to offer sponsors a better deal.
"I think the people who are in charge of advertising like to spend their budgets on things that do social good" the Founder of the App told Mashable.com.
Concluding her latest blog post, Stacy explains why Apps such as Charity Miles have the potential to become so huge.
"In today's economy, it can be really hard for some of us to set aside money for helping others. I think this app is a great way to donate money to a great cause and get super-motivated to work out at the same time" she says.
Where can female fitness fans learn more? Fitness fans can get Fitness Tips by subscribing to GetFitDaily for free. Visit their daily tips website at GetFitDaily.com.
GetFitDaily (™) thinks this is important information forfemale fitness fans and asks them to Like our Page on Facebook to learn exclusive daily fitness and weight losstips, tricks, and news about getting the most from your passion. "We'd appreciate your help in spreading the word amongst female fitness fans," says Stacy Carlo.
Like this? Check out GetFitDaily's last article: Latest Post from Fitness Tips for Women Blog, GetFitDaily.com, Announces New Information on Sleep and Weight Loss