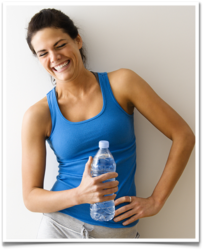 Now we know that endless hours of cardio is not the best way to go about losing or maintaining your weight.
Manhattan Beach, CA (PRWEB) July 11, 2012
GetFitDaily.com is one of the world's most visited Fitness Tips blogs. Offering daily tips and advice to women, information can be read directly from their blog, or via a daily digest email.
Today, Stacy Carlo at GetFitDaily published her latest post, titled "How Much Cardio Do You Really Need?"
Fitness fans can access the new blog post here:
http://getfitdaily.com/how-much-cardio-do-you-really-need/
In her latest blog post, Stacy mentions that she can remember her own Mother getting ready for her four-nights-a-week aerobics class.
"She'd wear her bright purple leotard with the skinny pink belt and complete her outfit with a pink terry cloth headband and pink legwarmers," she says.
She mentions that, while her Mother looked great, she spent at least ten hours a week at the gym and was bored of her workout routine.
Stacy now admits that the world is aware that endless amounts of cardio are not the best way to lose or maintain weight.
She directly quotes from an article on LiveStrong.com, which states that a person needs around thirty minutes of moderate-intensity cardio four times a week or twenty five minutes of more intense cardio three times per week.
This ensures good cardio health as well as the ability to maintain a healthy weight.
The site also makes a good case for the use of interval training.
"An exercise is classified as moderate-intensity if it causes your heart rate to speed up and leads you to break a sweat but allows you to have a conversation," Stacy writes, quoting directly from the LiveStrong.com article.
She then explains that more and more research indicates that huge amounts of cardio are not needed. In fact, one recent study claims to have proven that ten minutes of cardio actually provides the same benefits as twenty minutes.
"Take that information and add it to what we know about the benefits of interval training and you have a winning plan for getting fit in as little time as possible," Stacy concludes.
Where can female fitness fans learn more? Fitness fans can get Fitness Tips by subscribing to GetFitDaily for free. Visit their daily tips website at GetFitDaily.com.
GetFitDaily (™) thinks this is important information for female fitness fans and asks them to Like our Page on Facebook to learn exclusive daily fitness and weight loss tips, tricks, and news about getting the most from your passion. "We'd appreciate your help in spreading the word amongst female fitness fans," says Stacy Carlo.
Like this? Check out GetFitDaily's last article: Latest Post from Fitness Tips for Women Blog, GetFitDaily.com, Announces How to Walk the Way to a New Life