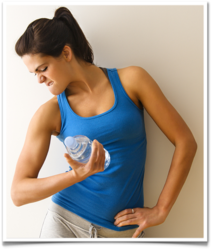 Manhattan Beach, CA (PRWEB) July 18, 2012
GetFitDaily.com is one of the world's most visited Fitness Tips blogs. Offering daily tips and advice to women, information can be read directly from their blog, or via a daily digest email.
Today, Stacy Carlo at GetFitDaily published her latest post, titled "Exercise Also Makes You Happier at Work"
Fitness fans can access the new blog post here:
http://getfitdaily.com/exercise-also-makes-you-happier-at-work/
In her latest blog post, Stacy explains that she regularly tells her friends, family and clients that regular exercise can make them happier at work. Therefore, Stacy is delighted to announce that someone has released a new infographic to display this visually.
The infographic, called "Pup Up Your Productivity" comes courtesy of Greg Kratz in the Desert News. It focuses on the results from a 2008 study at the University of Bristol. The study showed that those who gain a little exercise during the work enjoy report feeling more focused, productive and motivated.
"What's really interesting is that workers also benefit when their bosses exercise because their bosses are less stressed," Stacy says.
The study made it clear that only small amounts of exercise are needed. Workers are not required to spend their entire lunch hour in the gym!
Stacy then shares some of her top tips for workplace exercise. Firstly she suggests taking the stairs, making it clear that it will only add a few minutes on a person's day but will help them stretch and be of huge benefit.
Next, Stacy suggests that people take their lunch away from their desk.
"Skip eating at your desk. Instead of ordering in, walk to a nearby restaurant. If you bring your lunch to work, which I recommend, take it outdoors to a nearby park or to an outdoor space in your office building," she says.
Finally, Stacy suggests turning a coffee break into a mind and body break. She suggests going somewhere quiet and doing a few stretches and breathing exercises. She claims it will wake people up more than coffee and provide better work day benefits.
Where can female fitness fans learn more? Fitness fans can get Fitness Tips by subscribing to GetFitDaily for free. Visit their daily tips website at GetFitDaily.com.
GetFitDaily (™) thinks this is important information for female fitness fans and asks them to Like our Page on Facebook to learn exclusive daily fitness and weight loss tips, tricks, and news about getting the most from your passion. "We'd appreciate your help in spreading the word amongst female fitness fans," says Stacy Carlo.
Like this? Check out GetFitDaily's last article: Latest Post from Fitness Tips for Women Blog, GetFitDaily.com, Announces Information on How Much Cardio People Really Need