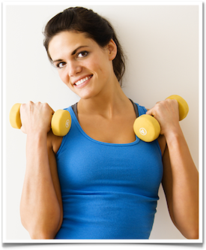 Pain that you feel during exercise is a signal that you're either hurt or about to be.
Manhattan Beach, CA (PRWEB) July 25, 2012
GetFitDaily.com is one of the world's most visited Fitness Tips blogs. Offering daily tips and advice to women, information can be read directly from their blog, or via a daily digest email.
Today, Stacy Carlo at GetFitDaily published her latest post, titled "Muscle Soreness Explained"
Fitness fans can access the new blog post here:
http://getfitdaily.com/muscle-soreness-explained/
In her latest blog post, Stacy mentions an excellent Q&A in a recent edition of the Huffington Post. She explains that many people don't know the difference between muscle soreness and being injured. However, she feels that the Huffington Post article does a great job of explaining the differences.
"Low grade pain or soreness is perfectly acceptable and even means that you're doing what you're supposed to be doing. That "tear and repair" process does result in soreness, but it also results in lean muscle right where you want it," Stacy explains.
On the flip side, Stacy then explains that any pain felt during exercise a sign that the person is hurt or that they are about to be. She also explains the difference between a muscle burning a hurting. Naturally the latter is not so good.
"You've probably also heard the phrase, "No pain, no gain," which I will tell you right now is one of my least favorite fitness phrases. At no time during your workout should you feel pain," Stacy adds.
However, Stacy does advise that a lot of people will experience delayed onset muscle soreness when starting High Intensity Interval Training. This is normal and most of it will disappear after a few weeks. With this in mind, Stacy also explains that some soreness is likely to continue on a permanent basis.
"Read the article in today's healthy Living section of Huffington Post and pay attention to how your body feels while you're working out and the day after. Working out is supposed to be hard, not painful," Stacy explains, concluding her latest blog post.
Where can female fitness fans learn more? Fitness fans can get Fitness Tips by subscribing to GetFitDaily for free. Visit their daily tips website at GetFitDaily.com.
GetFitDaily (™) thinks this is important information for female fitness fans and asks them to Like our Page on Facebook to learn exclusive daily fitness and weight loss tips, tricks, and news about getting the most from your passion. "We'd appreciate your help in spreading the word amongst female fitness fans," says Stacy Carlo.
Like this? Check out GetFitDaily's last article: Latest Post from Fitness Tips for Women Blog, GetFitDaily.com, Announces How Exercise Makes People Happier at Work