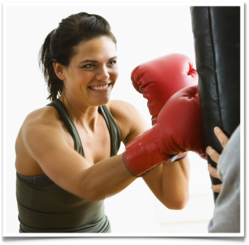 New research shows that strength training can even help you fight off Alzheimer's.
Manhattan Beach, CA (PRWEB) August 01, 2012
GetFitDaily.com is one of the world's most visited Fitness Tips blogs. Offering daily tips and advice to women, information can be read directly from their blog, or via a daily digest email.
Today, Stacy Carlo at GetFitDaily published her latest post, titled "Strength Training Can Help You Fight Alzheimer's"
Fitness fans can access the new blog post here:
http://getfitdaily.com/strength-training-can-help-you-fight-alzheimers/
In her latest blog post, Stacy explains to hear readers that what they during their twenties, thirties and forties has a direct impact on their likelihood of developing Alzheimer's as an older adult.
She turns her readers towards a page on a CNN health blog that discusses the relationship between strength training and the disease. She advises everyone to read it and share it with their family and friends.
The study that the article places focus on was conducted at the University of British Columbia by Dr. Teresa Liu Ambrose, Director of the Aging, Mobility, and Cognitive Neuroscience department.
"In one study, 86 women between the ages of 70 and 80 were divided into three groups. Each group had a different exercise program; walking, strength training or balance/toning workouts. At the end of the six month study, each group was evaluated using MRIs to image their brains," Stacy explains.
Each woman was also tested for Cognitive Executive functions, which included attention, memory and planning.
The study was able to conclude that the cognitive executive function and associated memory are the two traits most commonly linked to Dementia. Likewise, it was proven that women who started with a higher cognitive baseline enjoyed more benefits from strength training.
Stacy explains what this means to her readers.
"It means that you have even more reason to lift that weight, pull that band or do that push-up. It'll make you look and feel good now and it just may keep you feeling good later," she concludes.
Where can female fitness fans learn more? Fitness fans can get Fitness Tips by subscribing to GetFitDaily for free. Visit their daily tips website at GetFitDaily.com.
GetFitDaily (™) thinks this is important information for female fitness fans and asks them to Like our Page on Facebook to learn exclusive daily fitness and weight loss tips, tricks, and news about getting the most from your passion. "We'd appreciate your help in spreading the word amongst female fitness fans," says Stacy Carlo.
Like this? Check out GetFitDaily's last article: Latest Post from Fitness Tips for Women Blog, GetFitDaily.com, Announces New Information about Muscle Soreness