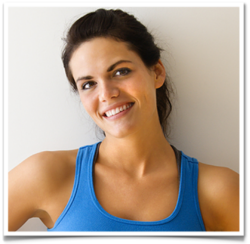 Today is when you need to get yourself in motion. Start small, start easy, but start right now.
Manhattan Beach, CA (PRWEB) August 08, 2012
GetFitDaily.com is one of the world's most visited Fitness Tips blogs. Offering daily tips and advice to women, information can be read directly from their blog, or via a daily digest email.
Today, Stacy Carlo at GetFitDaily published her latest post, titled "Lack of Exercise is Now a Global Killer."
Fitness fans can access the new blog post here:
http://getfitdaily.com/lack-of-exercise-is-now-a-global-killer/
In her latest blog post, Stacy explains that the media and fitness gurus frequently put increasing death rates down to lack of exercise. However, a recent study has actually shown that obesity due to inactivity is the new leading cause of death around the world.
She then announces that the NY Times Health & Science Blog recently published an article titled 'The Couch Potato Goes Global' which outlined this very serious and growing problem.
The article says that the total combined weight of humans is around two hundred and eighty seven million tonnes. One third of this obesity exists in North America, yet the country only makes up six percent of the planet's total population.
To further this point, Stacy then discusses another study from Brazil. During this experiment, questionnaires asking people about their exercise levels were distributed around the world, with shocking results.
It reported that one and a half billion people around the world are almost completely sedentary, failing to meet the global minimum activity levels of twenty minutes of walking each day. Not surprisingly, the United States leads this pack.
"It may scare you to know, though, that we are setting an example for our kids. More teens and children are sedentary (and obese AND diagnosed with Type 2 diabetes) than at any time in history," Stacy concludes.
Where can female fitness fans learn more? Fitness fans can get Fitness Tips by subscribing to GetFitDaily for free. Visit their daily tips website at GetFitDaily.com.
GetFitDaily (™) thinks this is important information for female fitness fans and asks them to Like our Page on Facebook to learn exclusive daily fitness and weight loss tips, tricks, and news about getting the most from your passion. "We'd appreciate your help in spreading the word amongst female fitness fans," says Stacy Carlo.
Like this? Check out GetFitDaily's last article: Latest Post from Fitness Tips for Women Blog, GetFitDaily.com, Announces How Strength Training can Help Fight Alzheimer's