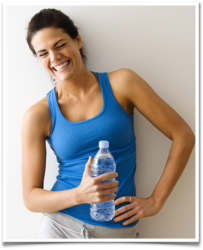 I think routines should be simple, moves should be simple and equipment should be at a minimum.
Manhattan Beach, CA (PRWEB) August 14, 2012
GetFitDaily.com is one of the world's most visited Fitness Tips blogs. Offering daily tips and advice to women, information can be read directly from their blog, or via a daily digest email.
Today, Stacy Carlo at GetFitDaily published her latest post, titled "Getting Back to Basics with Body Weight Training"
Fitness fans can access the new blog post here:
http://getfitdaily.com/getting-back-to-basics-with-body-weight-training/
In her latest blog post, Stacy explains that, when it comes to working out, it is best to always keep things simple. She states that she is a firm believer that getting fit doesn't have to cost huge sums of money or require the purchase of expensive equipment.
"I know that trainers are typically trying to sell fitness gadgets and fitness equipment left and right, but I have to admit that I try to keep things very basic," she explains.
Stacy says that using body-weight resistance is one the best and most basic ways to work out. In fact, a newly published article proves that body weight training is now a hot trend.
The article points out that there are many benefits to using one's own body weight instead of a piece of fitness equipment or the latest App.
"Because of individual differences in size and strength, it is difficult to construct strength-training machines to accommodate everyone's needs and shape, while body weight training is unique to that individual," the article states.
Stacy agrees with what the article has to say. She points out that many of her favourite exercises are push and pull ups, due to the way they work all of the core muscle groups at the same time.
"Try incorporating more body weight training into your workouts or even creating a ten or fifteen minute workout using just your body as resistance. You may find that you don't need the gym or all that equipment after all," Stacy concludes.
Where can female fitness fans learn more? Fitness fans can get Fitness Tips by subscribing to GetFitDaily for free. Visit their daily tips website at GetFitDaily.com.
GetFitDaily (™) thinks this is important information for female fitness fans and asks them to Like our Page on Facebook to learn exclusive daily fitness and weight loss tips, tricks, and news about getting the most from your passion. "We'd appreciate your help in spreading the word amongst female fitness fans," says Stacy Carlo.
Like this? Check out GetFitDaily's last article: Latest Post from Fitness Tips for Women Blog, GetFitDaily.com, Announces How Lack of Exercise is a Global Killer