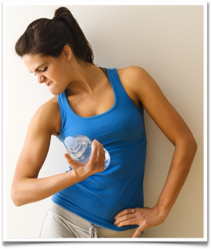 No matter what your goals are, do both!
Manhattan Beach, CA (PRWEB) August 20, 2012
GetFitDaily.com is one of the world's most visited Fitness Tips blogs. Offering daily tips and advice to women, information can be read directly from their blog, or via a daily digest email.
Today, Stacy Carlo at GetFitDaily published her latest post, titled "Which Comes First, Cardio or Strength Training?"
Fitness fans can access the new blog post here:
http://getfitdaily.com/which-comes-first-cardio-or-strength-training/
In her latest blog post, Stacy explains that both clients and friends often ask if they should tackle cardio or strength training first, as part of their often new fitness regime.
She mentions that she saw a post on The Huffington Post's healthy living blog, titled "Cardio or Weights First? Sometimes Exercise Order Matters", in response to one of their reader's questions.
Stacy mentions that doing cardio before strength training can cause muscle fatigue, often before a person is actually ready for it.
"On the other hand, if your goal is to burn fat and get lean fast, Halevy (who wrote the article) recommends that you do high-intensity interval training prior to a strength-training workout," Stacy explains.
Going into more detail, Stacy explains that doing cardio before strength training uses up the body's supply of Glycogen (the stored form of Glucose in a muscle's cells). Once these supplies have depleted, the body turns to more important supplies such as fat.
"So, if your primary goal is to lose fat and get lean, do your cardio first, especially high-intensity interval training. If your main goal is to build muscle, do your strength training first," she adds.
Concluding her latest blog post, Stacy explains that – no matter a person's fitness and weight loss goals are – they should ensure that they do a mix of both cardio and strength training to ensure maximum results.
Where can female fitness fans learn more? Fitness fans can get Fitness Tips by subscribing to GetFitDaily for free. Visit their daily tips website at GetFitDaily.com.
GetFitDaily (™) thinks this is important information for female fitness fans and asks them to Like our Page on Facebook to learn exclusive daily fitness and weight loss tips, tricks, and news about getting the most from your passion. "We'd appreciate your help in spreading the word amongst female fitness fans," says Stacy Carlo.
Like this? Check out GetFitDaily's last article: Latest Post from Fitness Tips for Women Blog, GetFitDaily.com, Announces How to Get Back to Basics with Body Weight Training