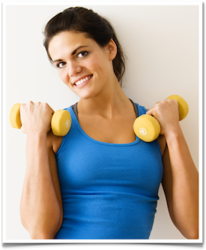 Regardless of what your favorite line is, Joan will debunk it.
Manhattan Beach, CA (PRWEB) August 24, 2012
GetFitDaily.com is one of the world's most visited Fitness Tips blogs. Offering daily tips and advice to women, information can be read directly from their blog, or via a daily digest email.
Today, Stacy Carlo at GetFitDaily published her latest post, titled "Forget Your Workout Excuses and Get Inspired."
Fitness fans can access the new blog post here:
http://getfitdaily.com/forget-your-workout-excuses-and-get-inspired/
In her latest blog post, Stacy explains that she recently came across and interview with Joan Creviston, a woman who makes everyone else's workout excuses appear null and void.
She mentions that the article was inspirational. As part of the Chicago Tribune's 'Remarkable Woman' series, she easily makes any possible workout excuse appear dull and lame.
"Too tired? Your head hurts? Just don't have the energy? Can't get to the gym because of bad weather? Well you may as well get over it because if that's the best you can do, then you're out of luck," Stacy says.
Joan is a woman who, following success at amateur boxing, left her profession as an interior designer in order to work full-time in fitness. She now works with people from all walks of life via her online personal training program.
"Oh, and did I mention that she's legally blind but still gets to her job at the gym by walking, running, bicycling, or snowshoeing?" Stacy adds.
Due to a degenerative eye disorder, Joan currently only has 10% of her original vision and is losing it at a rate of 2% a year.
"C'mon now – this woman compares her vision to what an average person would see if looking down a paper towel roll and she snowshoes to the gym in bad weather. You're not really going to tell me that you can't make it to the gym, are you?" Stacy further explains.
Concluding her latest blog post, Stacy urges her readers to adopt Joan's workout ethic and make the world a better, healthier place.
Where can female fitness fans learn more? Fitness fans can get Fitness Tips by subscribing to GetFitDaily for free. Visit their daily tips website at GetFitDaily.com.
GetFitDaily (™) thinks this is important information for female fitness fans and asks them to Like our Page on Facebook to learn exclusive daily fitness and weight loss tips, tricks, and news about getting the most from your passion. "We'd appreciate your help in spreading the word amongst female fitness fans," says Stacy Carlo.
Like this? Check out GetFitDaily's last article: Latest Post from Fitness Tips for Women Blog, GetFitDaily.com, Announces Which Comes First – Cardio or Strength Training?