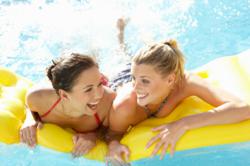 "We know firsthand that motivation is a key factor in achieving summer weight loss."
Toronto, Ontario Canada (PRWEB) August 10, 2012
As provinces across Canada succumb to the high, often record-breaking, temperatures that consistently arrive during July and August, getting active outside naturally becomes less of a priority than heat safety. Herbal Magic, Canada's leading weight-loss company, is pleased to introduce new ways to get in smoldering shape, but stay cool in hot weather.
Swimming
The unofficial pastime of summer, swimming, is an excellent way to get active and stay cool during the warmer months. Ranging from community pools to the crystal clear waters of Canada's provincial parks, swimming is a fun and healthy activity for the entire family. Remember, if you're planning to swim outdoors as opposed to an indoor community pool, make sure to load up on sunblock!
Fitness tip: If you're looking for a more rounded workout, hold off on the splashing and blend in a few laps. Plan on sets of 10 to keep your body moving consistently. Or hold informal water races with your group for a playful, yet fitness-friendly game.
Ice Skating
Believe it or not, ice-skating is a very popular activity during the summer. While winter is the premier season for sports such as figure skating and ice hockey, indoor ice rinks are an ideal spot to escape the sun for a few hours of chilly fun! Did you know that just one hour of ice skating can burn up to 500 calories per hour? (Based on an individual weighing 160 pounds.)
Sunrise Hiking
Ideal for couples, sunrise hiking offers all the health benefits of an active hike as well as the advantage of cooler morning weather. Paired with the beautiful scenery of Canada's nature and wildlife, hiking is a refreshing way to get in shape during the summer with the added benefit of a beautiful sunrise as you trek up the slopes. Begin your descent before the sun looms overhead to avoid peak sun beginning at 10 a.m.
Fitness tip: Hiking up hills is a great way to increase the intensity of your workout. An individual weighing 160 lbs. can burn over 500 calories during a one-hour hike on an incline!
Don't let the heat keep you from getting active this summer. While the average individual needs to burn roughly 3,500 calories to lose one pound per week, a proper plan for weight loss can help keep you on track. At Herbal Magic, every pound and inch lost is a reminder that there are no small goals, just smaller waistlines. All Herbal Magic programs are based on three pillars of success: personal coaching, real food and natural products.
"Many of our personal coaches are former Herbal Magic clients so they understand the tribulations of trying to lose weight and can provide support along the way," said Caroline Kolompar, Chief Marketing Officer for Herbal Magic Weight Loss Centres. "The dog days of summer can certainly be a challenge to stay active and that's why we've introduced these strategies for beating the heat. We know firsthand that motivation is a key factor in achieving summer weight loss."
This summer, take advantage of Herbal Magic's Summer Slimdown Plan and lose up to 20 pounds in 8 weeks! There's still time left to make the most of our warmer weather so get started now!
About Herbal Magic Weight Loss & Nutrition Centres
With approximately 280 centres nationwide, Herbal Magic is the largest Canadian owned and operated weight-loss company in Canada. Every Herbal Magic Canada team member has been extensively trained and certified as an Herbal Magic Personal Health Coach. With the support of its Scientific Advisory Team – comprised of naturopathic doctors, nurses and dieticians – Herbal Magic's nutritional and health experts have the experience, training and tools needed to support clients throughout their weight-loss journey. Herbal Magic's comprehensive system of real food, personal health coaching and natural products is, quite simply, a common-sense approach to lasting weight loss. Visit Herbal Magic to learn more.