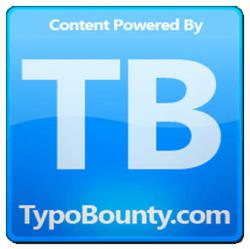 When operating collectively, small businesses are very powerful.
Houston, TX (PRWEB) June 14, 2011
Small businesses notoriously have small marketing budgets. Advertising online is getting more expensive but getting increased website traffic remains key to success. TypoBounty.com has launched a new low cost way to advertise and market online called ReadThrough Marketing™. RTM increases website traffic tremendously. 90% clickthrough rates are common.
Watch the video: http://www.youtube.com/watch?v=waNaKp2C7Lk
Because TypoBounty.com is a community of shoppers and internet users are willing to read every word of a website, visitors originating from TypoBounty.com present a greater opportunity for website owners to communicate with potential purchasers of their products and subscribers to their web content. It's a golden opportunity to get increased website traffic to the tune of millions of new visitors. No matter what a website is about.
ReadThrough Marketing's strategy is to have businesses offer small bounties on any website content typos that may exist on their websites. It's estimated that 1,000 businesses will make the game attractive enough to draw in millions of visitors willing to try their hand at finding the mistakes or intentionally hidden treasures on websites. In the process, they come and read every one the website owner wants to communicate.
Invented by a small business owner frustrated with the difficulty of increasing website traffic in today's competitive environment, ReadThrough Marketing™ redefines the thoughts of what is possible for small businesses and what is the next big thing of drawing in loads of traffic for small businesses.
The opportunity to play the game of finding typos for a chance to win prizes draws internet users while providing benefits to small businesses - 70% to 90% clickthrough rates, eliminates ad blindness, 100X visit times, stops content skimming, causes visitors to read every word of sales pitches, lowers consumers buy defenses, helps business copy to be error free, provides public relations benefits, company social media tie in, encourages impulse buys, at lower ad prices and more. This draws people like crazy and creates a huge impulse buy opportunities.
Users dig to the bottom of TypoBounty.com to play the game. So, small businesses can't get priced out of position.
"There are only 1,000 spots available for websites/small businesses desiring to get in and lock-in a price that is 1/5th the normal rate for life. We intend to market this on the Internet, TV, Cable, Radio, Newspapers and Billboards on a grand scale. We are committed to getting the word out. We think this is going to seriously put some websites on the map," says Andre Roberson, President of TypoBounty.com. "When operating collectively, small businesses are very powerful."
To small businesses, minority owned businesses, woman owned businesses, and home based businesses, this is the opportunity of a life time. Website owners desiring increased website traffic should secure one or more of the discounted ad spots before they are all gone.
# # #