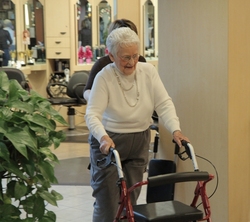 Through activity, seniors can build both physical and mental reserves that can help their body better tolerate problems that come with aging.
Omaha, NE (PRWEB) February 2, 2010
Fear of frailty is of paramount concern not only for seniors, but adults ages 35 to 62 - many of whom are daughters - worried about the health and safety of their older loved ones. That's according to results of a recent survey of seniors and adult children(1) that reveals staying physically active is a major challenge for older adults.
Lack of activity can lead to a downward spiral of poor health resulting in frailty, a condition that threatens the mind, body and social life of older adults, according to senior care experts.
"We regularly see seniors who are literally trapped in their homes because they are too weak to perform many of the activities they need to remain safe and independent, or to even enjoy life," said Home Instead Senior Care Co-Founder and CEO Paul Hogan. "That's why staying active is viewed by so many as vital to healthy aging. Differences in perceptions between family caregivers and seniors can make addressing these issues challenging for many families."
This problem is what prompted Home Instead Senior Care to develop the Get Mom Moving Activity Cards and Web site, both designed to help keep seniors engaged and fit in order to help them fight frailty.
A recent national survey conducted for the Home Instead Senior Care network found that 74 percent of seniors 65 and older say that staying physically active is a major challenge. Adult caregivers see the problem as well: 82 percent of adult caregivers listed staying physically active as a top challenge for seniors. That challenge leads to another worry: 90 percent of seniors in the survey say their greatest fear is loss of independence.
Frailty can be difficult to define, but most know it when they see it, said Stephanie Studenski, M.D., M.P.H., one of the nation's foremost authorities and researchers of mobility, balance disorders and falls in older adults, and director of clinical research for the University of Pittsburgh Institute on Aging. Medical professionals describe frailty as a syndrome of weakness, fatigue and decline in physical activity that may be triggered by hormonal or inflammatory changes or chronic disease states. For some, frailty results from a heart attack or stroke, while another senior might experience falls and weight loss.
Studenski and her colleagues conducted a series of focus groups with health care providers and family caregivers about how they perceive frailty in an effort to better identify the condition. "I think the thing that was most striking to me was that many family members we talked with perceived that an older person is getting more or less frail based more on social and psychological factors rather than physical factors. Doctors, on the other hand, focused on the physical manifestations in an older adult," she noted.
Dr. Studenski said that frailty can be both prevented and reversed by activity. "One of the core ideas in aging is that there are underlying problems in the body's self-correcting mechanism. For example, when a young person is bleeding, the body self-corrects by increasing the heart rate. But older adults, because of medication or health problems, may have lost the ability to self-correct by being able to increase their heart rate. Through activity, though, seniors can build both physical and mental reserves that can help their body better tolerate problems that come with aging."
So, in a very real way, family members who can encourage and integrate physical, mental and social activities in seniors' lives are helping them ward off frailty and stay healthy. And that addresses seniors' biggest fear of losing their independence as well. "This topic is at the heart of the concerns that we see each day in the lives of seniors and those who care for them," said Home Instead Senior Care's Hogan. "Fear of frailty keeps seniors worried about whether they can stay home."
(1)The Boomer Project (http://www.boomerproject.com) completed online interviews with 523 seniors and 1,279 adult caregivers, ages 35-62, with a parent, stepparent or older relative for whom they or someone in their household provides care.
###