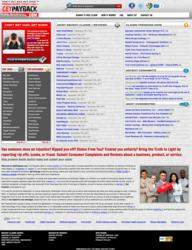 I just want to say thank you for such a service as yours. I stumbled across it a few minutes ago via my Google Alert - great to know that there are people who care!
Denver, CO (PRWEB) December 14, 2011
These days there are many reasons why an individual might want to get payback. Everyone has a story about the old boss who treated them badly, or the company that sold a false or defective product that didn't live up to expectations. It is easy to feel powerless when such bad circumstances come to bear - but with the use of GetPayback.com, more and more people are getting the payback they deserve against the individuals or entities that have wronged them and have helped warn others of potential danger.
With this focus on customer satisfaction and protection, GetPayback.com has encountered an incredible amount of success during its debut. However, some new and exciting changes have occurred to make GetPayback.com an even more powerful force on the Internet.
First, a new design and added functionality has helped make the site more interactive and user-friendly. The design helps facilitate the user through the steps of the payback process as well as simplified navigation for people to find new content. Now it is easier than ever to get payback!
The new design has exceeded expectations, and the numbers don't lie: there has been more than a 300% annualized growth rate in visitor traffic since the new design was launched. This is great, because the more people that know about and get involved with GetPayback.com, the more effective the site is! The larger the reach to a global audience, the more protection the site provides to the public!
There has also been an overwhelmingly positive response from the user base when discussing the new site design and the effectiveness of GetPayback.com in general. Many have reported that their use of the service has been helpful in resolving their disputes, as it is a great way to take problems to the public arena.
"I just want to say thank you for such a service as yours. I stumbled across it a few minutes ago via my Google Alert - great to know that there are people who care!" - Byrt (Sydney AUS)
The proof of the pudding is in the submissions - there are nearly 50 new claims sent in to GetPayback.com per day, and that number is growing daily.
One of the biggest fears when it comes to a site like GetPayback.com might be the legitimacy of the claims - after all, if people have an axe to grind, what's to stop them from lying? Despite this, the level of integrity on GetPayback.com remains high - less than 4% of claims that have been submitted to the site by users have been disputed. This is because of the strict guidelines users agree to forbidding the submission of false information. GetPayback.com remains a website that is intended to help users seek justice, not a place for unethical people to launch smear campaigns.
For more information about GetPayback.com and to check out the new site design, be sure to visit the website at http://www.GetPayback.com to learn more about this service and how the revolutionary design makes it easier than ever to get payback.
With the help of GetPayback.com and the facilitation of a smooth and fast new site design, navigating the ever-changing annals of justice is easier than ever - and nobody has to step inside of a courtroom in order to get it!
# # #