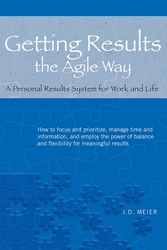 Be the author of your life and write your story forward.
Seattle, WA (PRWEB) October 26, 2010
Author J.D. Meier is announcing that his new book 'Getting Results the Agile Way' is now available in print. The book shows readers the way to make the most out of work and life. Meier has come up with a simple system to achieve meaningful results that combines some of the best methods for improving one's thinking, feeling, and doing.
"The best way I can put it is, it helps you be the author of your life and write your story forward," says Meier. "Basically, it's a system that can support you in everything you do. It's based on principles and patterns so you can tailor it for yourself or for any situation."
Meier currently works at Microsoft. Much of what he writes about was learned from his work experience, but applies on a much broader level.
"Getting results in today's landscape is tough. The world changes faster than people can keep up." What's worse, he notes, is people don't necessarily learn the right skills they need such as time management, focus, or simple productivity.
Meier wrote the book for anybody who wants more from life; it's the playbook for getting results that he wishes somebody had given to him so many years ago. "I've had requests from restaurant owners to people in the financial industry, to doctors, lawyers, marketers, teachers -- you name it. I know some consulting firms that have been waiting for the book. If you happen to be a software developer or a project manager, this book will find a special place in your heart," says Meier.
The reviews so far are glowing. Here are just two:
"Agile Results delivers know-what, know-why and know-how for anyone who understands the value of momentum in making your moments count. In our rapidly changing world, JD Meier offers a comprehensive clarity to sort through the often confusing cloud of complexity and find the real opportunity in our lives. I'm actually amazed at how much I learned from the first read through. Can't wait to go deeper with it, and there's plenty of depth. He packs powerful ideas that can turn your ideas into action onto every page, and the way he brings them to life makes it a real pleasure to read."

Dr. Rick Kirschner, bestselling author, speaker, trainer, coach, The Art of Change LLC
"JD is the go-to-guy for getting results, and Agile Results demonstrates his distinct purpose -- he shows how anyone can do anything, better. This book has simple, effective, powerful tools and ideas that are easy enough for everyone to apply in their work and lives, so that they get the results they'd like, even the impossible and the unexpected."

Janine de Nysschen, Changemaker and Purpose Strategist, Whytelligence
With Meier's system, people will be able to unleash their best by spending their precious life force on the right things, at the right time, with the right energy, the right way.
The print version can be purchased now on Amazon or Barnes & Noble. E-book versions will be available within the next few weeks. For additional information (including availability outside the United States) or for those interested in reading the book free in HTML, go to http://GettingResults.com.
About the Author
J.D. Meier is currently a Principal Program Manager for the Patterns & Practices team at Microsoft. On the technical side, his primary focus on the team is solution architecture, software engineering and quality attributes. He has performed more than 750 architecture and design reviews for customers and uses that experience to create customer-facing guidance. In addition to books, he's authored several articles for Microsoft's knowledge base and MSDN. On the personal development and effectiveness side, J.D. mentors many fellow Microsoft employees, as well as people outside the company; he reaches many more through his blog http://SourcesOfInsight.com. He also helps coach other teams inside Microsoft on getting results and improving effectiveness. This is his first non-technical book.
Getting Results the Agile Way by J.D. Meier
A Personal Results System for Work and Life
Publication Date: October 6, 2010
Trade Paperback; $16.95; 271 pages; 978-0-9845482-0-0
E-book; $9.99; coming soon in Kindle, PDF, and EPUB formats
Members of the media who wish to review this book may request a complimentary paperback copy by contacting the publisher by e-mail or phone. To purchase copies of the book in bulk (of 10 or more) or for resale, please e-mail the publisher at innovationplayhouse@gmail.com or call (360) 320-6185.
Contact:
Eileen Meier
Innovation Playhouse LLC
(360) 320-6185
innovationplayhouse(at)gmail(dot)com
###