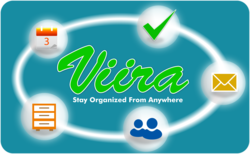 "Thx for the amazingly useful product. By far, Viira is the most important app on my blackberry" - Viira online feedback
(PRWEB) October 10, 2011
Karta Mobile has announced the release of version 3.1 of Viira, the popular software application for Getting Things Done with BlackBerry smartphones. The latest software update takes advantage of recent advances in BlackBerry hardware technology to provide users with an intuitive touch-enabled user interface. Users of Viira can now perform key productivity functions quickly and easily with just a tap on the screen of their BlackBerry smartphones.
Enhancements to Viira's In-Basket are perfectly suited for the collection phase of Getting Things Done® (GTD®) and enable users to view and quickly add tasks, reminders as well as email and SMS communications for further processing and classification into their BlackBerry GTD system. Additional enhancements in Viira 3.1 include the introduction of a Quick Add field to enable the fast input of new tasks and ideas, introduction of project and context priorities as well as a new compact mode to let users fit more of their Viira data on the screen of their BlackBerry smartphone.
Research In Motion Inc., the maker of BlackBerry smartphones, recently made available a number of new device models under the BlackBerry 7 brand. Recent models such as the Bold 9900 and 9930 as well as all models in the BlackBerry Torch series have a touch screen for enhanced interaction while preserving the signature BlackBerry QWERTY keyboard. Viira is compatible and fully supported on all modern BlackBerry models.
Karta Mobile has also announced that updates and enhancements available in Viira 3.1 will soon be available in the Viira companion product, the Viira Outlook Suite. The Viira Outlook Suite is the first software solution for Getting Things Done with Outlook to provide seamless wireless synchronization between a BlackBerry client application and an Outlook add-in in order to provide one accessible-from-anywhere GTD-style personal organization system.
"Getting Things Done: The Art of Stress-Free Productivity" is a best-selling time management book by David Allen that shows readers how to effectively organize their day-to-day tasks and commitments in a stress-free and intuitive way. The principles of the book continue to receive wide-spread media attention to-date and have been embraced by millions of professionals, entrepreneurs and executives worldwide. BlackBerry smartphones and the principles of Getting Things Done are both widely accepted as must-have productivity tools by busy knowledge professionals around the world.
About Karta Mobile Inc.
Karta Mobile Inc. is a Vancouver, BC company that specializes in the creation of business-centric mobile applications. Karta Mobile's flagship BlackBerry software app Viira is the leading GTD-based productivity application and has received numerous media reviews and positive testimonials. Karta Mobile recently released a version of Viira for Android smartphones.
Contact: contact (at) kartamobile (dot) com
Company website: http://www.kartamobile.com
Flickr stream: http://www.flickr.com/photos/gtdviira
GTD® and Getting Things Done® are registered trademarks of David Allen Company. Karta Mobile and Viira are not affiliated with or endorsed by the David Allen Company. BlackBerry, RIM, Research In Motion and related trademarks, names and logos are the property of Research In Motion Limited. Viira™ is a trademark of Karta Mobile Inc.
###