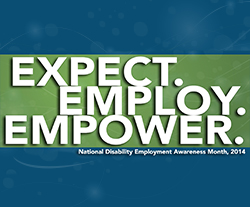 We want to spread the important message that a strong workforce is one inclusive of the skills and talents of all individuals, including individuals with disabilities.
Hanover, MD (PRWEB) October 08, 2014
GettingHired, Inc., offered a strongly attended virtual career fair on October 1st for individuals and veterans with disabilities. Over 900 job seekers signed up for the event, in order to speak with 23 of GettingHired's inclusive employer partners.
During the 3-hour session almost 800 conversations took place between job seekers and GettingHired's employer partners, potentially leading to follow up interviews and hires for the company's open positions.
GettingHired's virtual career fair offered employers exclusive access to directly connect with job seekers with disabilities, across a variety of industries.
Based on excellent attendance and wonderful feedback from both job seekers and employers over the two virtual career fairs, held this year, GettingHired will continue to offer this service throughout 2015.
On October 1st, GettingHired also announced their employer partners' participation in National Disability Employment Awareness Month (NDEAM), an annual awareness campaign that takes place each October. The purpose of National Disability Employment Awareness Month is to educate about disability employment issues and celebrate the many and varied contributions of America's workers with disabilities.
Reflecting this year's theme, throughout the month, GettingHired will be engaging in a variety of activities to educate its employers and job seekers on disability employment issues and the role they play in fostering a disability-friendly work culture. These efforts include a Virtual Career Fair for individuals and Veterans with disabilities to kick off the month, an educational webinar on job seeker frustrations, and blog articles written to both our employer partners and job seekers.
GettingHired's Featured Employers for NDEAM include:

Aclara Technologies
Allegis Group
Actavis
Concurrent Technologies Corporation
Exelon Corporation
Hilton Worldwide
Houston Methodist
ITT Corporation]
McGraw Hill Financial
Time Warner Cable
---
About GettingHired, Inc.
GettingHired, Inc., is an online service organization focused on creating employment opportunities for individuals and veterans with disabilities and helping employers find talent. The company is well known for its national employment and networking portal GettingHired.com. GettingHired.com connects talented job seekers who happen to have disabilities with employers, advocacy organizations, and service providers.