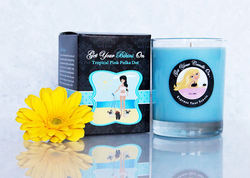 We were eager to develop the absolute best scented soy candle collection available while adding a fun twist to each scent that every woman could relate to.
Spring, TX (PRWEB) April 19, 2011
Based online and in select boutiques throughout the USA, Get Your Candle On has created a top of the line soy candle collection like no other. The company launched in January of 2010 and consists of 12 elegant fragrances that include hip & fresh "scent personalities". The Get Your Candle On scents were created by three women sharing a strong passion for finding the perfect soy candle. Many women agree that they have experienced purchasing the best smelling candle in a store only to get home and soon realize it really doesn't smell. Get Your Candle On is excited and proud to announce a search for the perfectly scented candle is finally over! This soy candle collection was created using only real essential oils, lead free wick and soy blend wax. "We were eager to develop the absolute best scent collection available anywhere." The scent throw of just one Get Your Candle On candle will scent an entire home and last 60 or more hours. The collection is known by its customers to burn evenly and to create less soot then many leading brands. "Affordable luxury was the goal and we have accomplished this especially for all candle lovers that have waited too long for such a product."
Not only are these candles offering a five star scent throw, the company visibly added modern and fashionable illustrated women to the packaging. Each individual candle offers a striking personalized presentation and theme making Get Your Candle On an ideal gift for any occasion. How did they do this? "Using inspiration from our own lives, we incorporated scent personalities for each candle that every woman can relate to". Get Your Candle On candles have vastly become the perfect girlfriend gift for any occasion. Within the collection, there is a scent personality to suit everyone. For the busy mom,"Get Your Bath On"(Kate) candle was created for those days when women just need to relax in a bath and send all worries down the drain. For the new mom to be, "Get Your Baby Bump On"(Emma) is an overwhelming hit for baby showers and is perfect for bringing fresh baby powder into the nursery long before the baby arrives. "Get Your Little Black Dress On" (Julie) has fast become the perfect accessory to bring to a girls night out. Remember Get Your Candle On for those special girlfriends! Get Your Candle On makes gift giving fun, luxurious and easy!
What are Get Your Candle On customers saying about their candle experience?
Liz
2011-02-12
"I really love burning these candles. They last me a long time, they always burn evenly and the wick burns great also. My absolute favorites are Julie, Audrey and Faith. They have great candles and excellent customer service. Order yours today you will be glad you did."
From: Benbrook,TX
Adria
2011-02-11
"The New Signature scent is my favorite so far! AND I LOVE THEM ALL! It burns evenly and lasts a long time without all the black soot that other name brand candles make. I gave them as Christmas presents and as Valentine's gifts for friends and my boy's teachers. Every person that tries them is hooked. Besides being a great candle it is a great
company started by incredible ladies who would inspire anyone! Get your Signature Scent on TODAY!! Adria will just amaze you!"
From: Houston, Texas
Rhonda
2010-06-06
"I love my Get Your Fresh Squeeze On scent! The candle burns clean and has lasted beyond my expectations. The smell is light, clean and wonderful. Just enough smell in the air to leave a pleasant aroma everywhere!!!"
From: San Antonio
The Get Your Candle On candle collection is not a traditional candle company. For the candle connoisseur looking for a powerfully infused soy candle, experience the difference that Get Your Candle On has to offer. Have fun getting to know twelve new friends through these unique and playful scent personalities. Get Your Candle On is thrilled to share its fine candle collection and scent personalities with women across the USA. Please do not go through the experience of buying another candle that will not meet all expectations! Instead, bring Get Your Candle On into the home! The collection is available online at http://www.getyourcandleon.com and in specialty boutiques throughout the USA.
Express Your Scents!
###