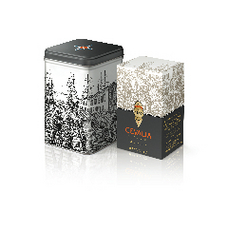 This new blend is exceptionally well balanced, complemented by subtle caramel flavor notes.
Tarrytown, NY (PRWEB) June 1, 2010
Gevalia is proud to introduce its new 1853 Heritage Blend, in celebration of the company's history of producing exceptional coffee. Coffee enthusiasts are invited to participate in online excitement featuring 1853 prizes. Gevalia's exciting new coffee boasts a flavor inspired by coffees procured over 150 years ago in Sweden by the company's founder, Victor Theodor Engwall.
"Gevalia represents an extraordinary coffee experience at home," said Sharon Saias, Senior Brand Manager, Gevalia. "Our customers are passionate about that Gevalia experience delivered right to their front door. This new Gevalia 1853 Heritage Blend remains true to our quality ideals and our commitment to delight our customers."
David Holfve, the Gevalia Master Taster whose skill was put to great use, helping select the ideal blend, is enthusiastic about new 1853 Heritage Blend. "It reflects our pledge to deliver superior quality and taste that dates back over 150 years ago. This new blend offers a smooth, rich taste that is exceptionally well balanced, complemented by subtle caramel flavor notes."
Gevalia 1853 Heritage Blend is made from 100% Arabica beans, gently and evenly roasted in Gavle, Sweden, the birthplace of Gevalia. The new coffee, developed to be universally appealing, is part of an annual selection of special coffees that are among Holfve's favorites.
To extend the excitement and attention to all things Gevalia there will be an unprecedented 30-day online promotion, the Gevalia 1853 Instant Win Game and Sweepstakes. Among the 1,853 prizes are a GE Profile washing machine, a Bosch dishwasher, cash prizes of $500 and $1,000, one year's worth of Gevalia coffee, stainless steel travel mugs and more. The grand prize is a trip for two to Sweden, which includes a special tour of the plant where the new blend originates, as do all Gevalia coffees.
Other features include:

Updates using the social media our enthusiastic and dedicated customer community is so familiar with, such as specially themed weekly "beanchats" (#beanchat) on the Gevalia Twitter feed.
A web video series that provides a "backstage peek" at the Gevalia plant in Gavle, Sweden.
Finally, in July, Gevalia.com will make the new Gevalia 1853 Heritage Blend widely available, while supplies last, during a special sale. During this time, customers also will enjoy discounts on other coffee accessories and coffees.
"We hope our customers will enjoy all the features and prizes of this promotion as much as we did designing it. They can look forward to future campaigns focused on the Gevalia heritage," said Saias. To play the 1853 Instant Win Game and Sweepstakes, go to http://www.gevalia.com/1853.
In recognition of their status, an exclusive group of Gevalia customers will be the first to get special shipments of the new Gevalia 1853 Heritage Blend. Those customers also will receive a commemorative, collectible tin adorned with original artwork depicting the Gavle seaport of Victor Theodor Engwall's time. Then, beginning in July, the new Gevalia 1853 Heritage Blend coffee will be available for purchase online for a limited time only. Gevalia 1853 Heritage Blend costs $9.95 per half-pound package of regular or $10.75 for decaffeinated (available in ground only), plus $5.95 shipping and handling.
About Gevalia: (http://www.gevalia.com)
Part of the family of Kraft Foods, Inc. brands, Gevalia is founded on the idea that people are entitled to a premium cup of coffee (or tea) brought straight to their door, on their schedule, for a more fulfilling experience. The company seeks out, blends and roasts some of the finest coffee available anywhere, and is widely known for its variety of over 40 coffees and teas and automatic home delivery system for ultimate customer convenience.
About Kraft Foods Inc.:
With annual revenues of approximately $48 billion, Kraft Foods is a global powerhouse in snacks, confectionery and quick meals. The company is the world's second largest food company, making delicious products for billions of consumers in more than 160 countries. The portfolio includes 11 iconic brands with revenues exceeding $1 billion - Oreo, Nabisco and LU biscuits; Milka and Cadbury chocolates; Trident gum; Jacobs and Maxwell House coffees; Philadelphia cream cheeses; Kraft cheeses, dinners and dressings; and Oscar Mayer meats. Approximately 70 brands generate annual revenues of more than $100 million. Kraft Foods (http://www.kraftfoodscompany.com; NYSE: KFT) is a member of the Dow Jones Industrial Average, Standard & Poor's 500, Dow Jones Sustainability Index and Ethibel Sustainability Index.
Contacts:
Bonnie Rothman Morris
Company B
914-500-5150
Bridget MacConnell
Kraft Foods
914-425-6979
###