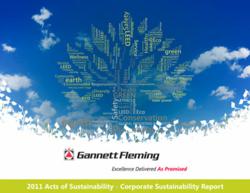 Creating value beyond balance sheets and profitability, Gannett Fleming's sustainability program is built on developing and nurturing good habits. - President & COO Robert M. Scaer, P.E.
Harrisburg, PA (PRWEB) May 15, 2012
Gannett Fleming, Inc. has released the 2011 Acts of Sustainability report with stories and metrics on how it reached three-year sustainability goals one year ahead of schedule.
The 2,000-strong engineering company exceeded its goals to reduce solid waste by 5 percent, energy use by 10 percent, and water use by 15 percent at its corporate headquarters buildings in Harrisburg, Pa.
"Creating value beyond balance sheets and profitability, Gannett Fleming's sustainability program is built on developing and nurturing good habits. Recycling, turning off computers and lights when not in use, making healthy lifestyle choices, following safety procedures, and being sustainable thinkers and problem solvers are all actions powerful enough to transform a company and communities," said President and COO Robert M. Scaer, P.E.
"Since our founding in 1915, Gannett Fleming has made sustainability a focal point. Why? Because shareholders and customers demand more from a world-class company—they want to know if we're good stewards of our natural resources and whether we are leaving our work environment better than when we inherited it," said Mark D. Johnson, Gannett Fleming vice president and corporate sustainability officer. "Benchmarking Gannett Fleming's progress in the corporate sustainability report (CSR) ensures that our business policies and practices meet the needs of our clients and future generations."
The report showcases health and wellness, safety, continuing education, training, community service, and sustainable solutions for clients. The public can review the CSR at: http://www.gannettfleming.com/corporatesustainability.htm.
"We titled this CSR 2011 Acts of Sustainability to represent the nearly 2,000 Gannett Fleming employees who have made sustainability happen at home, in the office, and in service to our clients. And, this is our 2011 year in review—so you may view our title as describing either how many of these acts occurred or when they occurred," said Chairman and CEO William M. Stout, P.E.
Publishing the report digitally is an extension of a corporate sustainability program launched in 2009. As part of this program, the firm defined the sustainable metrics it would record, established baseline data, and set reduction goals to measure progress in reducing the firm's environmental footprint.
A section of the new report profiles projects that incorporate sustainable attributes—ranging from a bus maintenance facility to a solar farm—to demonstrate how Gannett Fleming has responded to its clients' challenges with fresh thinking and sustainable solutions.
Gannett Fleming's efforts to create sustainable infrastructure through projects and services has been recognized in Engineering News-Record. The firm is ranked #47 on the magazine's 2011 Top 100 Green Design Firms list based on design revenue from registered sustainable projects.
Gannett Fleming is a global infrastructure firm that provides planning, design, technology, and construction management services for a diverse range of markets and disciplines. With 2,000 employees, we have helped to shape infrastructure and improve communities through transportation, environmental, water, energy, and facility-related projects in more than 65 countries. The firm embraces sustainability and innovation for all activities, finding the best solutions and the most efficient processes while being responsible stewards of the environment. Founded in 1915, Gannett Fleming had $292.4 million in revenues in 2011 and has more than 60 offices around the world. We are proud to be ISO 9001:2008 Certified.