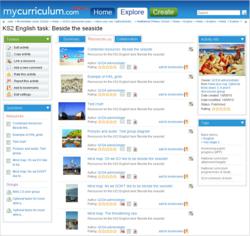 GGfL is committed to unifying access to high quality digital educational content, from commercial, open, free and user-generated sources
Cambridge (PRWEB UK) 7 November 2011
"We are thrilled at the prospect of making MyCurriculum.com a key part of the GGfL content service," said Julian Mobbs, Managing Director at GGfL, a wholly owned subsidiary of US-based EduTone. "GGfL is committed to unifying access to high quality digital educational content, from commercial, open, free and user-generated sources. This acquisition ensures that the website's well-constructed tools and resources are kept available to existing users and that the website can achieve its potential by attracting a substantial base of new users. It also gives us a strong platform and brand to leverage our free educational content offering."
The combination will also offer opportunities for GGfL to extend and enhance its free content service, which currently includes user-generated content from We the Teachers, a community of over 60,000 educators, as well as access to many other open educational resource providers through GGfL On Demand.
With over one million digital resources from more than 40 content providers, including Corbis, Waterford Institute, Intel, Reuters, Bridgeman Education and Science Photo Library, GGfL represents one of the most comprehensive digital educational content collections in the world.
Founded in 2008, MyCurriculum.com users have built up a library of over 1,400 online resources and 500 activities. The site helps teachers to access and develop best practice activities, lesson plans, resources and examples of students' work.
Educators interested in seeing the MyCurriculum service can sign up for free at http://www.MyCurriculum.com
Notes for Editors
About Global Grid for Learning
Global Grid for Learning (GGfL) aims to connect teachers and students at all stages in education to single sources of digital multimedia content from multiple providers. Its mission is to become the leading digital content broker and supply network for education markets worldwide.
GGfL services provide a safe and reliable way for teachers and students to search, stream and download high quality and copyright-cleared learning resources from trusted content providers. Our growing library of over one million digital multimedia resources makes it easier for teachers to engage, motivate and inspire media savvy students.
Available online and through commonly used learning platforms, portals, and commonly used educational software, GGfL ensures teachers and students have seamless access to the digital content they need, when they need it for anywhere, anytime teaching and learning.
Global Grid for Learning is a wholly owned subsidiary of EduTone.
For further information, go to: http://www.globalgridforlearning.com
About EduTone
EduTone provides the sustainable technology infrastructure schools need in order to deliver the 21st century teaching and learning environments their stakeholders require. Installed in thousands of schools around the world, the EduTone XchangeTM is a 2011 CODiE "Best K-12 Solution" award winning, Web 3.0 Platform-as-a-Service technology that enables on-demand, one-to-one services delivery in the Education Enterprise.
EduTone is a DBA of VIP Tone Inc., a privately held corporation headquartered in Alameda, California.
For more information, go to: http://www.EduTone.com
###