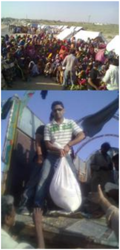 (PRWEB) December 29, 2011
Global Health in Action, a Facebook campaign aimed at college students with an interest in global health issues, recently announced the winners of its second Facebook contest. The contest asked fans to submit original photos of anything they regarded as global health in action. Photo subjects could include volunteer/Peace Corps experiences, classes, study abroad programs, and other activities involving global health. For a month and a half, fans were able to submit their photos and vote "Love it" or "Leave it"—up to three times a day—for the entries. The contest received 16 submissions and more than 500 total votes.
Khan won an iPad 2 and Cacatian won an iPod touch.
Every entry showcased the dedicated volunteer work that the Global Health in Action fans perform, as well as the various plights they have witnessed around the world. The remaining entries are displayed to the right.
###