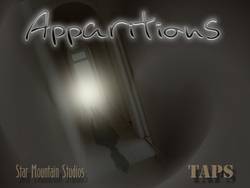 Long Beach, CA (PRWEB) June 18, 2008
June 18, 2008 - The whole of the Red Reef Inn has now been opened to desk chair investigators! With the release of the expanded edition of Apparitions from Star Mountain Studios and TAPS, players are now free to explore several new rooms previously closed off in the original release.
Apparitions has the player working with the Peter Wren Paranormal Investigation Agency to examine and capture the strange happenings at the Red Reef Inn, an old hotel located in the Florida Keys. New owners have taken over the inn and have begun renovations in an attempt to bring it back to its former glory. Unfortunately for them renovating old structures such as this, with long and troubled histories, tends to stir up the ghosts of the past. Literally.
The player is given tools familiar to paranormal investigators such as an EMF detector, digital voice recorder and a thermal camera. Additionally the player can place up to four remote cameras to try and catch events in rooms other than the one they are currently investigating. If all else fails there is Lucy, a sensitive, who can help guide the player towards possible events in the area. Though that help does come at a cost.
Once the player feels they have gathered enough evidence they submit their findings to TAPS within the game for their reward and potentially a place on the Apparitions leader board.
Players can also log in to the Apparitions forums to discuss the game with other investigators, pick up tips, or get hints as to some of the secrets the Red Reef Inn holds.
Apparitions is a casual game for PC and Mac. The game is available as a try before you buy download from http://www.starmountainstudios.com/apparitions/
About Star Mountain Studios: Star Mountain Studios was formed in 2002 by three veterans of Vivendi Universal Games in order to make original casual games outside the big studio system.
About TAPS: The Atlantic Paranormal Society was founded by Jason Hawes and Grant Wilson to investigate and document paranormal phenomena. TAPS is featured weekly on the Sci-Fi channel original series Ghost Hunters.
###