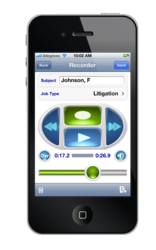 "Winscribe Dictation is easy to use, allows our attorneys to use a combination of dictation capture devices and enables us to deliver information to our clients faster." - Jennifer DiSenso, Administrator at GHR
Chicago, IL (PRWEB) January 19, 2012
As the largest law firm in Salem, Oregon, Garrett Hemann Robertson, P.C. (GHR) is a full-service firm built on a tradition of integrity, excellence and results. To help reach their business goals and maintain their excellent service to clients, GHR actively researches and incorporates the best technology solutions for their firm. After recognizing that their basic digital dictation system was not meeting their business' needs, GHR began to research solutions that would help improve the efficiency of their dictation process and allow for mobile dictation via iPhone® devices. Following their research and evaluation processes, GHR decided to implement Winscribe Dictation and Winscribe Dictation for iPhones to assist them in working more efficiently and providing quicker results to their clients.
Jennifer DiSenso, Administrator at GHR, explained that "when we began researching dictation software, we wanted to incorporate a solution that had the capabilities for better dictation management and an option to capture and manage dictations using our current smartphones - iPhones. In addition, we wanted to work with a company that we felt could properly support our business' needs for years to come."
GHR narrowed their options to four dictation software packages: Philips SpeechExec, me2me Frisbee, BigHand's digital dictation software, and Winscribe Dictation. After a comprehensive review and a pilot implementation, GHR selected Winscribe Dictation as the best solution to meet their needs. Using a combination of iPhones and Philips digital recorders as dictation capture devices, Winscribe's digital dictation workflow management system was implemented in October, 2011 to a group of 34 attorneys and paralegals and 15 legal secretaries at GHR.
Jennifer stated: "Our attorneys, paralegals and secretaries recognize the benefit of our new system. Winscribe Dictation is easy to use, allows our attorneys to use a combination of dictation capture devices and enables us to deliver information to our clients faster. In addition, the Bluetooth capability of Winscribe Dictation for iPhones provides greater flexibility for our traveling attorneys. The Bluetooth capability allows authors to dictate between locations without having to return to the office to submit paperwork. I also love the new system, because of the management and reporting capabilities. For example, I can pull dictation jobs from our general dictation queue and designate them to specific legal secretaries for confidentiality purposes. This is something that we could not do with our previous software."
Moreover, Winscribe's team of professionals also made the sales and implementation process a success for GHR. "Our account manager, Randal Mitchell, was another major factor in our decision to move forward with Winscribe. Randal is very knowledgeable regarding his company's products, dictation processes in law firms, and implementing software solutions in an enterprise environment. In addition, during our rollout of Winscribe Dictation, the Winscribe team made for a smooth implementation and assisted in helping our attorneys embrace this new solution. With Winscribe's successful history in the dictation market and our representative's knowledge and personality, we felt that Winscribe was a good fit for our long-term goals, and we have been happy with our decision."
About Garrett Hemann Robertson, P.C.
Founded in 1928 and located in Salem, Oregon, Garrett Hemann Robertson, P.C. (GHR) provides legal solutions and services to clients in Oregon, Washington, and throughout the nation. GHR prides itself on enjoying long-term relationships with their clients and their success in providing positive results for their clients. Their lawyers are creative problem solvers and aggressive advocates who have distinguished themselves in multiple areas of the law, which include Corporate & Business Law; Civil Litigation; Construction Law; Divorce & Family Law; Employment & Labor Law; Estate Planning, Trusts, Wills & Probate; Human Resources Consultation & Litigation; Medical Practices & Malpractice Defense; Real Estate Transactions & Development; School & Public Entity Law; Tax Law; and Workers' Compensation & Workplace Torts Defense.
To learn more about GHR, please visit http://www.ghrlawyers.com.
About Winscribe:
As the world's leading provider of digital dictation software, Winscribe supports businesses all over the globe with their requirements for digital dictation, digital transcription, voice recognition, and workflow management. Based on years of experience in the workflow management field Winscribe has now extended its offering to Business Process Management solutions for the legal market.
Winscribe is the largest supplier of digital dictation technology in the world with installations in 25 countries and more than 350,000 users globally. Winscribe provides solutions for a number of industries including Legal, Law Enforcement, Healthcare, Transcription, Surveying, Insurance and Government sectors and has a widespread global reach with strong customer presence in North America, Europe, Australasia, and South Africa.
Offices located in the USA, UK, New Zealand, Australia, and Switzerland and a network of more than 100 sales partners provide a global knowledge base that enables customers to successfully implement and maintain their Winscribe solution.
To learn more about Winscribe and their suite of digital dictation, speech recognition and business process management solutions, please visit http://www.winscribe.com.
###