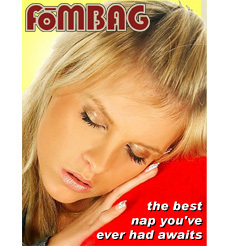 Foam bags are an excellent alternative furniture to heavy framed sofas and loveseats.
Salt Lake City, Utah (PRWEB) December 1, 2008
Fombag.com is at the top of google for giant bean bag chairs and sells some of the most comfortable furniture on the planet. The foam bag is one of the greatest inventions your back side will ever know. "Foam bags are giant foam-filled bean bag chairs that make great home theater room seating, gaming chairs, and dorm room furniture."
While fombag.com is an attractive website, over the years some customers have found it difficult to navigate and find exactly what they are looking for. Fombag.com owners and employees love the look and feel of the website because it is different and unique compared to other websites, and they didn't want to redesign it or take away from what sets the website apart from its competitor's websites.
So after much discussion and thought, Fombag decided to keep its hip looking fombag.com website, and launch a new website: foamsack.com. Foamsack.com has all of the same comfortable and relaxing extra large bean bag chairs found on its main website, only it is a more traditional website with navigation on the top, left hand side, and bottom. The website also features an easy-to-access search box at the top of the website, as well as an advance and slick shopping cart with a fast one-page checkout.
FoamSack.com features Foam Bag's extra large foam beanbags in more organized fashion and with easier and quicker access to the product pictures and information. Now with 2 websites, consumers looking for a less expensive alternative to Lovesac's love sack furniture can choose to shop quickly and organized on foamsack.com, or in a more laid back and unique style on fombag.com. Either website its customers choose to shop on, they will have access to purchasing the most comfortable furniture on the planet.
Fombag recently added 2 new types of covers to it's liner of giant foam-filled bean bag chairs: Faux Fur Minky Plush and Hippo Suede. Faux Fur Minky Plush is 85% Acrylic/Poly blend material that won't ball up, is machine washable, and comes with a 20 year warranty. This high quality material capture's your body heat and warms you up quicker than any other fabric. Fombag's faux fur bean bag chair covers are a Korean Minky Plush material that is almost ¼ inch thick. The popular micro suede material is almost a 1/16 inch thick. Faux fur covers come in sold colors, as well as animal prints. The most popular animal prints are the leopard, zebra, and cheetah. White is also a popular color because it is similar to Lovesac's puppy fur cover.
Fombag's faux fur is the top of the line, but they also now have Hippo Suede, which is like adding a foam backing to your micro suede cover. Lovesac sells Plushsuede covers for $100 more than their regular micro suede covers. You can get fombag's 6 foot Hippo Suede covers for only an additional $30. Hippo Suede adds an extra level of comfort and is becoming more and more popular.
Fombag's extra large beanbags are amazingly soft, fun, and relaxing. Foam bags are your ideal furniture for any college dorm room, frat house, home theater room, game room, media room, family room, or teen room. Fombag's foam bean bag furniture is cheaper than name brands, but the quality is exception is almost, if not just as, nice and comfortable. "Foam bags are an excellent alternative furniture to heavy framed sofas and loveseats."
Visit foamsack.com, fombag.com, or call 1-866-7-fombag for more information. Utah customers can also now try out fombag's ultra soft foam bags by visiting its newest store at 73 N. Main Street in Kaysville, Utah (Same block as the Kaysville Theater), just 20 minutes north of downtown Salt Lake City.
Fombag's telecom & networking services are serviced through MPLS Provider, where you can get all of your business' telecommunication services at a better monthly rate through one company.
###