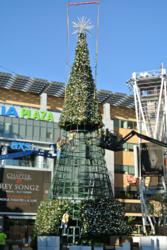 Los Angeles, CA (PRWEB) November 26, 2012
When So Cal celebrates we go big-- and Christmas is no exception! This year Los Angeles is home to a 72 foot tall giant Christmas Tree, the largest artificial tree in the Southland, soaring over six stories tall in downtown LA. This massive Christmas tree is encircled by a 100 foot ice skating rink, as part of the holiday festivities hosted this year at LA Live.
Dekra-Lite's installation crews worked around the clock to assemble all 72 feet of the Christmas Tree. It took 24 hours, 30 crew members and a 90 ton crane to complete the installation. "Assembling and decorating a tree of this size is a major undertaking." explained Jeff Lopez, President of Dekra-Lite Industries. "The tree is enormous and requires special equipment, you want to get it up fast to minimize disruption to the customer."
This extraordinary Christmas tree sparkles with over 28,000 gold and silver ornaments. Thousands of ornaments the size of baseballs, and thousands more the size of basketballs, gild the more than 1000 tree branches. At dusk, 106,100 environmentally friendly, warm white LED mini lights spark to life creating a warm picturesque holiday glow. "It's absolutely incredible," says Dekra-Lite employee Karen Flores, "the tree just fills everyone with Christmas spirit. It's amazing to be a part of this project."
# # #
Dekra-Lite, the leader in commercial Christmas decorations, was founded in 1987 and is responsible for many of the most recognizable commercial Christmas displays in the United States. For more information please contact the Marketing Manager, Teri Bickley at teri (at) dekra-lite (dot) com or 1-800-436-3627.