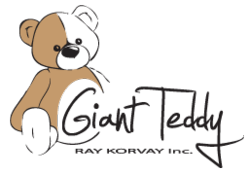 Our mission is to spread love and happiness all over the world, one Giant Teddy bear at a time
Santa Ana, CA (PRWEB) February 04, 2013
With Valentine's Day rapidly approaching, Giant Teddy, an online retailer providing high-quality, adorable teddy bears, is making sure everyone is covered with a fun gift idea. The company is offering specials on various Valentine's-themed teddy bears, ranging from small, personalized stuffed animals to life-sized giant teddy bears. Giant Teddy delivers the bears right to your Valentine's door and is featuring free shipping, too. No matter how far apart you are, you can surprise someone with a gift on their doorstep that very day.
The company offers personalized bears, which are a really unique gift for the holiday. Giant Teddy stands out from other retailers by offering a wide selection of colors and sizes, and gift-givers can choose male or female bears. Giant Teddy can also add colorful plush hearts, personalized notes and other details to help make customers' gifts even more memorable.
For recipients who are more sentimental – or as a gift-giver who wants to add a personal touch – it makes a world of difference to include the recipient's name or a personal message written on a beautiful greeting card. Gift-givers love the ease with which they can be delivered to the doors of their recipients for free – it adds in an element of spontaneity and surprise.
Deliverable teddy bears aren't just a one-time deal, either. Ray Khosravi, Founder and CEO of Giant Teddy, states, "Our mission is to spread love and happiness all over the world, one Giant Teddy bear at a time. Our work begins long before Valentine's Day gets underway; it's a year-round labor of love!"
Oversized, color-coordinated, and personalized teddy bears are perfect gifts for any occasion, which is why the site boasts great deals and free shipping on the cuddly friends year-round. Giant Teddy has been dreaming up and selling customizable, all-occasion gifts for more than five years. They aim to create gifts that reflect the unique personalities of their recipients and ships them to anywhere in the world.
For more information or to purchase a teddy bear, please visit http://www.giantteddy.com.