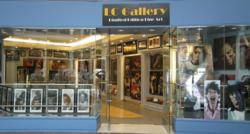 As owner and operator of LC Gallery, Steven Lipary takes a hands-on approach with his business, overseeing all aspects of his business.
San Francisco, CA (Vocus/PRWEB) February 19, 2011
LC Gallery, a premier collector of art and sports memorabilia in the Bay Area, recently opened a new retail location located on the fourth floor of the Westfield San Francisco Centre. Owner Steven Lipary, who has over 35 years' experience with collectibles, brings his expertise and reputation to collectors of art and sports memorabilia in San Francisco. The new store is currently featuring signed San Francisco Giants memorabilia and artwork by Stephen Holland and Sebastian Kruger.
"As owner and operator of LC Gallery, Steven Lipary takes a hands-on approach with his business, overseeing all aspects of his business," says a representative. Lipary now brings his expertise to San Francisco, offering evaluation, authentication and appraisal services. The new location will feature live events, including private/public signings, player appearances, charity auctions, and other special events.
LC Gallery is one of the largest distributors of authentic autographed San Francisco Giants memorabilia. All the items are 100% guaranteed and come with a Certificate of Authenticity. They feature signed memorabilia from many Giants greats, including World Series memorabilia signed by the 2010 National League Rookie of the Year, Buster Posey.
Another current feature at the new location is the artwork of Stephen Holland. He has painted some of the most famous "tough guys" in sports and celebrity circles. Capturing the raw energy and emotion of his subjects, his five- to six-foot portraits exhibit his passion for painting, with his bold line work, aggressive color, and daring shapes and form. Steve Holland is also the official artist for NASCAR, the Los Angeles Lakers and Dodgers, the Grammies and all of their charitable foundations.
Also on display is art by Sebastian Kruger. The German-born artist provides a unique "twist" to his art, portraying some of Hollywood's most famous people in a light unseen by most. His ability to capture the essence of his subjects is what makes his works remarkable, conveying the essential spirit of the character while ignoring the obvious details.
For more information or questions regarding any of LC Galleries products or services, call them at (415) 912-1005, view them on the web at http://www.lcgalleries.com, visit the LC Gallery store located in the Westfield Mall at 865 Market Street at Fifth Street # 430 in San Francisco, or visit the Lipary Collectibles Gallery located at 625 Main St. in Martinez, CA 94553.
About LC Gallery
Lipary Collectibles (LC) Gallery is a dealer of limited edition artworks as well as Celebrity, Entertainment, and Sports Collectibles. LC Gallery features many signed and rare items, and offers a 100% guarantee of authenticity. LC Gallery brings signed Giants memorabilia and fine artwork by artists like Justin Bua to San Francisco.
Owner and Northern California native Steven Lipary has spent a lifetime collecting, selling and evaluating fine art and collectibles. Since the opening of Lipary Collectibles in 1980, Steven has expanded his business over the years, now doing businesses out of multiple locations and around the world. Lipary has garnered the respect of collectors and dealers alike, having received numerous accolades in the field of authentic autographed sports memorabilia and collectibles.
###