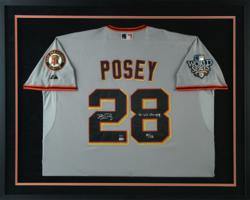 These jerseys are just like the ones the Giants used in the World Series, with the official patch and everything.
San Francisco, CA (Vocus/PRWEB) March 12, 2011
On Wednesday, March 17th, Buster Posey will take a break from spring training in Scottsdale, AZ to sign a very limited number of Major League Baseball-authenticated World Series jerseys, which will be available exclusively from San Francisco sports memorabilia specialist LC Galleries.
Posey, a catcher for the World Champion San Francisco Giants, was named National League Rookie of the Year in 2010. The signed jerseys are a must-have for Giants fans: each has the official mlb.com authentication hologram and the hard-to-find World Series inscription.
"These jerseys are just like the ones the Giants used in the World Series, with the official patch and everything," explains Steven Lipary, owner of LC Galleries. "A designated MLB Authenticator will be there to put the official hologram on all the merchandise, and you can enter that number on mlb.com to confirm where and when it was signed."
This will be the third private signing that LC Galleries has done with Posey since the Giants won the World Series. By Wednesday, March 17th, Steven expects only 40 of these exclusive jerseys will be signed to date. The maximum number that will ever be released is 112. LC Galleries will be offering a choice of the home cream color, Friday night orange, alternate black or away-game grey.
"Authenticity is everything," says Steven. "It's the most important part of this entire industry. That's why we're so excited to offer this Buster Posey jersey, authenticated with the MLB hologram and the World Series inscription."
In addition to the limited-edition jerseys, Buster Posey will be signing baseballs, bats and photos, which will all be available from LC Galleries. Steven promises, "We will have all your authentic signed Giants gear ready just in time for the opening game at the Dodgers on March 31st."
LC Galleries is one of the largest distributors of authentic autographed San Francisco Giants memorabilia. All the items are 100% guaranteed authentic and come with a Certificate of Authenticity.
Owner Steven Lipary is a die-hard Giants fan, and has connections made over his 21 years of collecting that enable him to get the hardest-to-find memorabilia available. LC Galleries will be the exclusive dealer of the upcoming Giants World Series winning moment painting commissioned from Opie Otterstad by Major League Baseball.
To order a signed Buster Posey World Series jersey, or for information about any products or services from LC Galleries, call them at (415) 912-1005, view them on the web at http://www.lcgalleries.com, visit the LC Gallery store located in the Westfield Centre at 865 Market Street at Fifth Street # 430 in San Francisco, or visit the Lipary Collectibles Gallery located at 625 Main Street in Martinez.
About LC Galleries
LC Galleries is a dealer of limited edition artworks as well as celebrity, entertainment, and sports collectibles. They have two locations: the LC Gallery store in the Westfield San Francisco Centre and Lipary Collectibles in Martinez. LC Galleries features many signed and rare items, and offers a 100% guarantee.
Owner and Northern California native Steven Lipary has spent a lifetime collecting, selling and evaluating fine art and collectibles. Since the opening of Lipary Collectibles in 1980, Steven has expanded his business over the years, now doing businesses out of multiple locations and around the world. Steven has garnered the respect of collectors and dealers alike, having received numerous accolades in the field of authentic autographed sports memorabilia and collectibles.
###