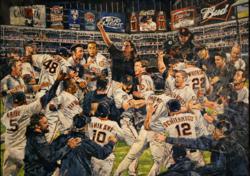 We are very excited to host these meet-and-greet sessions with Opie.
San Francisco, CA (Vocus/PRWEB) April 27, 2011
Prolific sports artist Opie Otterstad recently finished his latest work of art, the official Major League Baseball-sanctioned painting of the Giants' World Series winning moment, and he will be in town for the unveiling and two meet-and-greet and signing sessions with Giants fans.
Otterstad will attend the official unveiling of his original painting at LC Gallery, located in San Francisco's Westfield Centre, on April 29th from 6:00 p.m. to 8:00 p.m. He will also be at Lipary Collectibles, located at 625 Main Street in Martinez, on April 30th from 2:00 p.m. to 5:00 p.m. 210 limited-edition true giclée prints of the painting have been made, and will be available for dedicated signing by the artist at the events. The galleries will also have many of Otterstad's other paintings on display.
"We are very excited to host these meet-and-greet sessions with Opie," says Steve Lipary, owner of San Francisco sports memorabilia distributor LC Galleries. "He's one of the greatest sports painters working today."
Otterstad, whose accolades include being named United States Sports Academy's Sports Artist of the Year, has captured the defining moments and greatest players of modern baseball history in his work. Every year for the past decade, he has created a painting of the World Series-winning team. These paintings have become a major part of baseball traditions; they are as much a part of the Series ritual as the parade and the ring ceremony. Prints are always in high demand with baseball insiders and the players themselves.
This year's painting, a 40x60" canvas, shows the whole team crowded together at the moment of victory. In the center are the players most beloved by fans: Brian "Fear the Beard" Wilson, Rookie of the Year Buster Posey, and starting pitcher / Series clincher Tim Lincecum, whose arm is raised in a gesture that tells the whole world, "We're number one." The painting captures the excitement in the air at the moment San Francisco finally got its first Series championship, ending a 56-year drought for the Giants.
Otterstad will be in town to talk and take photos with fans. Those lucky enough to get one of the 210 limited-edition prints of the Giants painting can get a personal dedication on the back. The galleries will also feature a display of other original and limited edition works of art by Otterstad, including World Series paintings of the '09 Yankees, '04 Boston Red Sox and '55 Brooklyn Dodgers, and non-baseball paintings like the '10 Lakers NBA championship.
As a long-time collector and trusted dealer of authentic San Francisco Giants memorabilia, LC Galleries owner Steven Lipary was chosen to be the exclusive vendor for the World Series painting. LC Gallery and Lipary Collectibles will be only galleries in the world to show the painting and offer the limited edition prints to the fans, and the only galleries in the world to host Opie Otterstad in honor of his painting of the 2010 Giants World Series celebration.
For more information about the upcoming meet-and-greet sessions with Opie Otterstad, to reserve a Giants World Series celebration painting, or for information about any products or services from LC Galleries, call them at (415) 912-1005, view them on the web at http://www.lcgalleries.com, visit the LC Gallery store located in the Westfield Centre at 865 Market Street at Fifth Street # 430 in San Francisco, or visit the Lipary Collectibles Gallery located at 625 Main St. in Martinez.
About LC Galleries
LC Galleries is a dealer of limited edition artworks as well as celebrity, entertainment, and sports collectibles. They have two locations: the LC Gallery store in the Westfield San Francisco Centre, and Lipary Collectibles in Martinez. LC Galleries features many signed and rare items, and offers a 100% guarantee of authenticity. LC Gallery brings signed Giants memorabilia and fine artwork by artists like Stephen Holland to San Francisco.
Owner and Northern California native Steven Lipary has spent a lifetime collecting, selling and evaluating fine art and collectibles. Since the opening of Lipary Collectibles in 1980, Steven has expanded his business over the years, now doing businesses out of multiple locations and around the world. Steven has garnered the respect of collectors and dealers alike, having received numerous accolades in the field of authentic autographed sports memorabilia and collectibles.
###