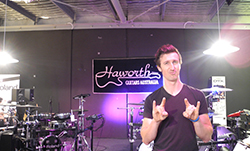 The guitar is valued at over $1000 – it's a great instrument looking for a new home
(PRWEB) May 28, 2013
With the support of Gibson Guitars Australia, Haworth Music Centre has announced a new free-to-enter competition to celebrate the successful opening of its Wollongong store. The prize, a brand new chocolate brown USA-made Gibson SG electric guitar, will go to the winning entry posted on the Haworth Facebook Page.
In a video on HaworthGuitars.com, viewers are taken on a quick tour of the new store, with Haworth Managing Director, Glenn Haworth, pointing out some of his favorite features of the popular music store, including the sound-proofed amp room and more mellow acoustic room. The tour will help those who have not been into the Wollongong music store to enter the competition.
"We have a lot of online shoppers, and non-local followers on Facebook, so we wanted to make it as easy as possible for them to be in the running for the Gibson SG" said Mr Haworth.
"To be in the running to win the Gibson SG guitar, the process is simple. You just need to Like our Facebook Page, and tell us, in 30 words or less, what you like most about the new Wollongong store" explained Mr Haworth.
"The guitar is valued at over $1000 – it's a great instrument looking for a new home."
With the opening of its Wollongong store earlier this year, Haworth Music Centre is building on a reputation for investing in long term relationships with customers by delivering superior customer service to local shoppers. However, through its online shopping facility and Facebook presence Haworth has grown that reputation beyond its local community.
"We have fans and clients from all over the world, and we go out of our way to give them exceptional customer service whether they are in store, on the phone or online" said Mr Haworth.
The Gibson guitar competition has just opened and will close on June 30, 2013. The winner will be the person who submits what the Haworth team determines to be 'the most creative and fun entry'.
For details on the competition visit http://www.haworthguitars.com.au
About Haworth Music Centre
Luthier, Phil Haworth established Haworth Guitars in 1999, with a focus on building and repairing stringed instruments. In 2000 the transition from workshop to retail space was made, and in 2008 the two-level Haworth's Music Centre, with adjacent Warehouse, was opened in Albion Park Rail, just south of Sydney, Australia.
Phil has returned to his love of guitar-building and the business is now run by his son, Glenn, who in 2011 became General Manager. The Haworth team is comprised of young people who live their passion for music and musical instruments.
Haworth's ability to remain very competitive in an online world rests with its warehousing capabilities and strong online presence.
Visit the Haworth website at HaworthGuitars.com.au (http://www.haworthguitars.com.au/)