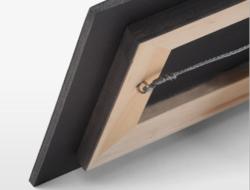 Bamboo mounting is an affordable and stylish alternative to professional framing
San Francisco, CA (PRWEB) March 23, 2012
San Francisco's premier photography lab and film scanning center, Photoworks SF, is now offering bamboo as a new and simple way to display photos and artwork.
"Bamboo mounting is an affordable and stylish alternative to professional framing. See your images made into modern and eye-catching art by going with bamboo mounting," David Handler of Photoworks SF said. "Perfect for homes, offices and cafés, bamboo is a unique and exciting way for all levels of photographers and artists to showcase their images."
Bamboo is one of the fastest growing plants on the planet and can grow a measure of 39 inches in one day, indicating that it is an eco-friendly option. It has also proven its strength in the construction industry, where some parts of Asia use it as scaffolding when building skyscrapers.
"Make your photos and artwork more exciting by mounting it directly to three-quarter-inch bamboo along with its exposed, polished wood grain sides of bamboo," Handler said.
Bamboo mounting is available in different paper surfaces, such as photo paper (matte or glossy) and fine art/giclee papers (moab photo matte, hahnemuhle photo rag and silver rag glossy).
For more information about bamboo mounting or any of Photoworks SF's products or services, call 415-529-5212, view the printing experts on the web at http://www.photoworkssf.com or visit 2077A Market St. in San Francisco.
About Photoworks SF
Photoworks SF is San Francisco's premier photography lab and image processing center. Since 1987, Photoworks SF has met the needs of the San Francisco Bay Area's photo community and beyond. Its comprehensive services are tailored to both amateur and professional photographers who are looking to get the most out of their images. Catering to digital and traditional film photographers, its services include giclee printing, postcard printing, film scanning, business cards printing, brochure printing, color prints and more.