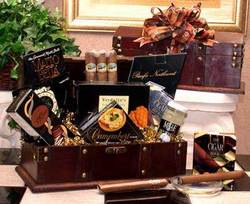 Creating memorable moments for the important people in your life is something that will last forever
Lake Worth, FL (PRWEB) June 4, 2008
The quest to find the perfect gift for friends and acquaintances can leave shoppers grinding their teeth in frustration. The collection of Father's Day gift baskets, sympathy gifts, get well gift baskets, and more at One Source Gift Baskets provides a hassle free, one stop shopping experience guaranteed to leave the headache in the past.
"Creating memorable moments for the important people in your life is something that will last forever," says company president Nathan Pierce. "Our gifts are perfect for celebrating almost any occasion."
The staff at One Source Gift Baskets knows that there's no one more difficult to shop for than Dad, and this year they're stepping out and offering a line of gourmet gift baskets for Father's Day that will leave tired ties and videos in the past. Whether he spends his Sundays with NASCAR, a golf club or a fishing pole, One Source Gift Baskets has a gift basket that lets him know he's appreciated.
"…whether he is Mr. Fix-It, Mr. Wonderful or maybe Mr. Mom - No matter what kind of Mister he may be, he needs to feel special too," states Pierce.
Dads aren't the only ones who need to feel special. One Source Gift Baskets has a huge selection of "For Her", bath and spa and wine gift baskets filled with wines, soaps, candles and chocolates designed to encourage Mom to set down the dishes, put up her feet and take a break from doing it all.
Thank You gift baskets, baby baskets, housewarming gifts, birthday baskets and an eclectic collection of "Unique" gift baskets, along with exquisite 24K gold dipped roses, round out One Source Gift Baskets wide selection of gifts to commemorate any occasion.
"Our goal is to provide you with a hassle free selection and ordering process," says Pierce. "The quality of our gifts is top-notch…so you can feel proud about the gift you purchase."
As the company grows the staff at One Source Gift Baskets strives to ensure the quality of their customer service matches the quality of their products. Their customer service line is staffed by real people willing and able to answer questions to ensure that every customer finds exactly what they're looking for.
For more information on One Source Gift Baskets, and to browse their extensive collection of unique gift baskets, visit http://www.onesourcegiftbaskets.com.
###