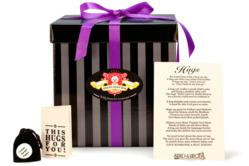 Give Mom something wonderfully different and well deserved that shows her how much she truly is appreciated... a 'Hug'!
Boca Raton, FL (PRWEB) May 05, 2012
This Mother's Day show Mom how much she's appreciated by sending her a soft, loveable, and cuddly 'Hug' bear with personalized message. Because everyone can use a 'Hug' now and then.
According to company founder, Rob Schneider, "Send-A-Hug specializes in bringing 'Hugs' to life with a personalized teddy bear specifically for grown-ups."
Schneider adds, "Send-A-Hug was created for two reasons: First, to assist people in communicating their feelings and to be the vehicle for those wishing to hug someone, particularly if they are unable to do so in person. Secondly, people have been begging for an alternative way to let someone know they really care.  They want something new and absolutely unique."
This Mother's day families can give Mom something wonderfully different and well deserved that shows her how much she truly is appreciated … a 'Hug'!
Each soft, lovable, bear ('Hug') carries a personalized message for Mom, known as a 'Hug–Gram' along with the words, 'This Bears My Hugs to You, Happy Mother's Day'.
'Hug' the bear has been created to hug and be hugged and offers endless hours of unconditional love to its lucky recipient.
'Hugs' can also come with a box of solid chocolate hearts and a preserved real red rose that will last 7-10 years, and a very special heartfelt Mother's day gift book, making it the ultimate 'Thank You' for Mom.
Schneider adds, "And because anyone can use a 'Hug' most any day of the year, Send-A-Hug has masterfully created 41 other Hug Packages besides Mother's Day Hugs including Birthday Hugs, Feel Better Hugs, Thinking of You Hugs, Love You Hugs, Anniversary Hugs, Congratulations Hugs, Best Teacher Hugs, and many, many more."
Schneider concludes, "This year, give Mom a special, heart-felt and personalized gift that means more … something she can literally hold onto … the one thing she really wants or needs, a HUG!"
'Hugs' start from $39.95 with nationwide delivery. All major credit cards plus PayPal is accepted.
For more information or to 'Hug' someone today, visit http://www.HugSomeone.com or call toll-free 1-800-SEND-A-HUG (1-800-736-3248). 
About Send-A-Hug
Send-A-Hug is a division of the Serious Teddy Bear Company of Boca Raton, Florida, which has been a premier retailer for over 30 years and is committed to quality and personal customer experience. Send-A-Hug is passionate about philanthropic efforts and community involvement with their 'Hug For A Cure' campaign, in which a portion of all Send-A-Hug proceeds will be donated to Cancer and Alzheimer's research.