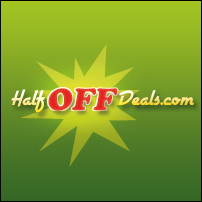 One thing people can't stand is junk mail crowding their inboxes
Mogadore, OH (PRWEB) March 14, 2007
The only thing finer than a great deal is discovering an even better one. Today, HalfOffDeals.com has just made finding great deals easier for consumers across America by launching a virtual discount gift-certificate center at http://www.HalfOffDeals.com. Powered by Neofill®, LLC, America's largest fulfillment center for bargain entertainment and dining gift certificates, this new website offers deals on vouchers for restaurants, pubs, sushi bars, bowling, movies, day spas, travel, and more. At HalfOffDeals, customers pay only half the face value for each and every gift certificate offered.
By visiting HalfOffDeals.com, consumers have access to an arsenal of gift certificates that have been marked down by a whopping 50%. They remove the time and energy involved in bargain hunting, so people can spend quality time and experience the "finer things in life" with ease. For example, a $50-valued prime steak and seafood dinner at Orlando's popular Everglades Restaurant on International Drive, is just $25 thru HalfOffDeals.com.
"We save consumers time and money so they can use it to enjoy great dining and activities with their families and friends," says Jim Varga, HalfOffDeals.com President and CEO.
While their comprehensive database includes gift certificates for the nation's top restaurants and entertainment venues, HalfOffDeals.com also promotes local establishments so people can discover great dining and fun within their own neighborhoods. To give you a glimpse of their vast selection, some of their 41,000 half-off deals throughout America include: Holiday Inn (Denver), Il Covo (Chicago), The Keys Bar & Grill (Montgomery), Planet Beach Tanning Spa (Orlando), Alta on High (Columbus), Tokyo21 (Chicago), Acme Comedy Company (Minneapolis), Peace of Sole Seafood Restaurant (Philadelphia), and Pressed4Time Cleaners® (Austin).
"Gift certificates are no longer just for birthdays and special occasions," explains Varga, "With nationwide specials on dry cleaning, beauty salons, travel accommodations, florists, auto service, fitness, and restaurants, people are using our discount gift certificates to save on day-to-day activities and services."
HalfOffDeals.com has even included a "Certificate Tooter", which provides customized weekly email notifications to registered customers about current half-off deals within their zip code area. While these notices are scheduled for every Tuesday, people don't have to worry about junk mail because if there is no deal that matches their specifications, there is no email.
"One thing people can't stand is junk mail crowding their inboxes," explains Brian Lenington, HalfOffDeals' Program Director. "So, we make sure we only send the relevant gift-certificate updates that our visitors ask for specifically."
Establishments also benefit from HalfOffDeal's online gift certificate program. Having gift certificates listed on HalfOffDeals.com provides excellent marketing opportunities for restaurants, pubs, spas, movie theatres, salons, and other companies that want to expand their market and increase exposure.
"A great way for a store to increase business is by offering an incentive customers simply can't refuse. Gift certificates provide an excellent avenue for advertisement and marketing, and at HalfOffDeals.com, we know exactly how to connect consumers with great offers," says Varga proudly.
Jim Varga is confident that HalfOffDeals.com will draw in just as many loyal consumers as Neofill. Once people find out about the great deals offered on the website, he knows they will be eager to share the news with friends, co-workers, and family.
"We don't want HalfOffDeals.com to be a website where visitors only benefit one time," Varga clarifies, "Our goal is to develop HalfOffDeals.com into a vital online resource for saving money, where consumers will return again and again to take advantage of these excellent dining and entertainment markdowns. With over 41,000 nationwide deals currently available we're well on our way."
To find out how you can save 50% on local dining and entertainment, please visit http://www.HalfOffDeals.com today.
About HalfOffDeals.com
HalfOffDeals is a wholly-owned subsidiary of Neofill® LLC, an Ohio-based Fulfillment Center specializing in discount gift certificates for companies across America. HalfOffDeals.com is an online resource center created for consumers interested in purchasing valuable gift certificates to trusted establishments at just half the price.
About Neofill®, LLC (HalfOffDeals.com's company)
Northeast Ohio Fulfillment Center (Neofill®, LLC) is the Home of the Half-Priced Gift Certificate Program™. As America's largest fulfillment center for half-off dining and half-off entertainment gift certificates, Neofill has radio and television promotions in over 150 markets coast to coast. Their services include the free set-up of the online store-front for establishments, managing online Credit Card transactions, gift certificate distribution, and Toll-Free customer service lines.
###