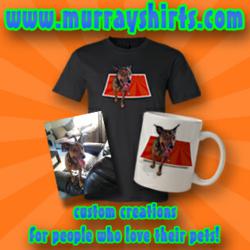 . This company is currently filling the gap of customized products in the pet industry.
Hartford, Connecticut (PRWEB) June 28, 2013
Consumers purchasing customized apparel online now have a way to create personalized gifts for pet owners. The MurrayShirts.com company has launched its company online and is now offering custom printed pet t-shirts for sale as a gift for dog lovers. This company is currently filling the gap of customized products in the pet industry. A portfolio of designs available and custom order services are now available at http://www.murrayshirts.com.
Custom printing products represents one of the largest consumer areas of the retail industry in North America. The textiles printing industry has expanded online since the creation of new digital equipment to streamline the ordering process.
Investments made this year by the Murray Shirts Co. includes the use of direct to garment shirt creation to bypass heat transfers or other common types of printing available to consumers online.
"We're creating products custom to each pet owner," said Shon Strickland, owner and founder of MurrayShirts.com. Because no minimum order is required, a pet owner can order one garment or other product type currently offered. This strategy is reducing the price of the printing services and reducing the cost of shipments made in the U.S. "Each garment is designed by a talented graphic designer instead of DIY designs found online," Strickland added.
This customer service commitment is expanding the consumer services available when printing orders are placed. The launch of the company website this year has introduced the company services to consumers to most parts of the country. A toll-free telephone number is now supplied to give support and answer questions prior to the ordering process. These services are offered in comparison to companies offering printing services with minimum customer service.
About MurrayShirts.com
The MurrayShirts.com company is revolutionizing the custom garments industry by providing full-color printed products for pet owners online. This company has invested into the latest printing technologies to supply its customers with quality prints for more affordable prices. The launched website this year helped introduce the company services to the public. Updates to the MurrayShirts.com company have helped to streamline the design and ordering process online. A faster turnaround time and custom design work are now available for each printed product that is ordered and customized for pet owners online.