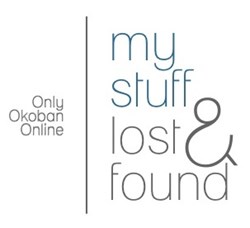 It is possible to shop late and still become a Holiday Hero.
Atlanta, GA (PRWEB) December 18, 2012
Mystufflostandfound.com has compiled a list of four last minute online gift ideas for the procrastinators among us or a gift for the person that's been overlooked. Whether a gift of security (Okoban's global lost and found service for life), a gift they really want (e-gift certificates), a gift that creates a memory (experience certificates), or a charitable gift (for the person that really does have everything), it is possible to shop late and still become a Holiday Hero.
THE GIFT OF SECURITY – mystufflostandfound.com Offers Okoban's Global Lost and Found Service for Life.
Everyone is at risk of losing their valuable stuff, including all those new gadgets they receive this Holiday Season. Now there is an innovative new solution to the age old problem of "lost stuff". Mystufflostandfound.com exclusively sells Okoban®, tracker tags and luggage tags for Okoban's free (no annual fees) global lost and found service for life. Tags can be applied to laptops, phones, tablets, even passports, luggage, keys, glasses, jewelry, cameras, electronics, credit cards and other valuables. The finder of a lost valuable can enter the Unique Identification (UID) on the Okoban website and the owner is notified immediately by email and text message of the found item and the recovery location, anywhere in the world. Luggage tags and tracker tags can be ordered at: http://www.mystufflostandfound.com
THE GIFT THEY REALLY WANT - E-Gift Certificates
It's not always easy to guess on a gift for someone else. E-gift certificates are a great new online option that allows recipients to get exactly what they really want. From Starbucks to American Express to Victoria's Secret, most online businesses now offer online gift certificates. It's not only the E-retailers that are getting into the act. Many brands offer E-gift certificates through their Facebook page where people can make a purchase and then post the gift on a friend's wall. That's fast and easy.
THE GIFT THAT CREATES A MEMORY - Experience Certificates
Often the things we remember and appreciate most are not physical possessions but the things that we do and do with others. Giving an activity instead of a physical gift is now possible with Experience Certificates. Think of an activity that would bring joy to someone on your gift list and it can probably be arranged. Options vary widely to suit the tastes of the recipient. Wine/cheese tasting tours, craft classes, skydiving lessons, concerts, horseback riding lessons, an annual pass to the national parks, eco-adventures and restaurant coupons only begin to list the possibilities and are only a few mouse clicks away from delivery.
THE CHARITABLE GIFT - For The Person That Really Does Have Everything.
Giving a donation may be the way to show the true spirit of the Holiday season. For the person that really does have everything, giving a gift donation to a charity in their name may the perfect gift. Some search suggestions for consideration might include planting a tree in someone's name, Adopt a Sea Creature, Cell Phones for Soldiers, Charity Gift Cards or Preserving Rainforest. A quick Google search will provide numerous options. Some other more well known charities that gladly accept gift donations include UNICEF, Kiva Card, the Red Cross, Feeding America, your local food bank, Doctors Without Borders, and Water.org.
A last minute gift can still be a winner. The real joy of gift giving is a few clicks away, thanks to Google and the Internet.
My Stuff Lost and Found, founded in 2012, provides convenient worldwide online sales of Okoban's sturdy tracker tags for laptops, phones, tablets, even lost passports, luggage, cameras, electronics, pets, keys, glasses, credit cards and other personal items and valuables. Mystufflostandfound.com is the online gateway to Okoban's tracking service for valuables and free global lost and found service for life, used by 400+ airline companies, 2,200+ airports and thousands of "frequent finders" including TSA, rail, maritime, coach, rental car and hotel companies. To find out more on how technology and goodwill can protect valuables, visit http://www.mystufflostandfound.com