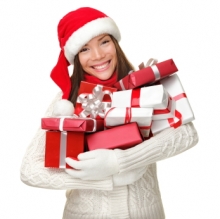 We're going to help a lot of Christmas dreams come true this year. From men's lips to Santa's ears!
San Francisco, CA (PRWEB) December 13, 2011
Before another husband receives a fruit cake, before another father adds an unwanted Christmas sweater to his wardrobe, before another son has to wonder what he's going to do with a salad spinner and before another boyfriend enters the new year with a brand new rice cooker to his name, Cheap-Neckties.com is coming to the rescue.
In hopes of preempting a season of disastrous gift giving choices, the popular online bow and neck-tie retailer has published the definitive list of Top 10 Christmas Gifts for Men.
For shoppers looking for gift giving advice this year, the trend-spotters at Cheap-Neckties.com have all the answers. The site is making it easy for gentlemen of all ages to drop hints to wives, girlfriends, mothers and daughters with the master Top 10 list.
"This is the ultimate Top 10 list. We've mentioned everything a guy could want," said Cheap-Neckties.com founder, Hendrik Pohl. "We're going to help a lot of Christmas dreams come true this year. From men's lips to Santa's ears!"
From creative ideas like home beer-brewing kits to advice on the perfect pair of cufflinks for a man, Cheap-Neckties.com's Top 10 list covers ever aspect of gift-giving to the less fair sex. The site reports that season's tickets to sporting events are always a sure hit, while any manly man would appreciate a subscription to a steak-of-the-month club.
Of course, one of the top three most-wanted gifts according to Cheap-Neckties.com is the classic necktie. A perennial favorite in any holiday gift guide, ties are available in every color and hue on Cheap-Neckties.com. The site carries a selection of over 2,000 affordable and trendy neck and bow ties, in addition to tons of other men's fashion accessories.
"Instead of giving your man a pair of long underwear, why not give him something he really wants? We have a gorgeous array of ties in every style, size and color. Ties make great stocking stuffers and they're useful year round. A man can never have enough," added Pohl.
The top two items on Cheap-Neckties.com holiday gift guide? The gift that no man ever seems to outgrow—video games—lands the number two spot. And the gift that makes any fellow feel like an important man around the house—a toolbox.
###