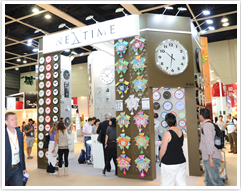 Some 4,000 quality gift manufacturers and gift suppliers are expected to join the 2012 fair
(PRWEB) March 11, 2012
The 27th edition of the Hong Kong Gifts and Premium Fair, to be held 27-30 April at the Hong Kong Exhibition and Convention Centre, will reaffirm its international eminence as a specialist trade platform.
Global exhibitors committed to participation
Some 4,000 quality gift manufacturers and gift suppliers are expected to join the 2012 fair. By February, 18 countries and regions plus regional associations had lined up to showcase their finest gift products. Among those represented are: the Chinese mainland, France, Germany, India, Indonesia, Italy, Japan, Korea, Macau, Malaysia, the Philippines, Singapore, Taiwan, Thailand, UK and the Hong Kong Exports' Association, with Brunei and Pakistan making their first appearance. These international clusters of gift manufacturers and gift suppliers will present a wide spectrum of exotic and unique gifts and premium items.
Designated product zones simplify sourcing
Hong Kong Gifts and Premium Fair is widely recognised as the optimal channel to promote a brand and maximise its exposure to gift buyers from all over the world. The Hall of Fine Designs will gather many world-renowned brands and innovative, design-driven offerings. The Hall's superb decoration is eye-catching, making it the ideal stage for gift manufacturers and gift suppliers to merchandise their premium products. This year's line-up of well known brand names includes:

Asia One Product and Publishing Limited - showcasing an array of paper products featuring drawings by local illustrator Jeanie Leung;
Chocolate Rain Jewellery & Design Company Limited - presenting handmade products with a themed character, Fatina, conceptualised by local designer Prudence Mak;
green & associates (HK) Limited - using different recycled and eco materials for environmentally-friendly gift products of superior design;
NICI Gmbh - showing stuffed toys, stationery and other giftware under its NICI brand;
Topchoice Industries Limited - supplying mugs and cups, ceramic tableware, and products under its own brand, MC2 by topchoice.
Other product zones organised for easy sourcing includes Advertising Gifts & Premiums, Green Gifts, Personal & Well-being Gifts and Tech Gifts. World of Gift Ideas, situated at Hall 1, gathers an international array of bright ideas and inspirational products
Today's buyers incline to small orders with quick turnaround time to reduce stock and save operational costs. In view of this, the fair launches Small Order Zone, situated at Expo Drive entrance, to accommodate contemporary flexible sourcing patterns.
Seminars add flair to the fair
Besides offering trade opportunities, the fair provides value-added activities such as networking events and seminars. Industry experts are invited to address issues of interest and concern, bringing attendees up-to-date market intelligence. Gift manufacturers and gift suppliers can use the Product Demo and Launch Pad to bring their brands to targeted audience.
The concurrent 7th edition Hong Kong International Printing & Packaging Fair will takes place at AsiaWorld-Expo, offering expanded sourcing opportunities for gift and premium buyers. A free shuttle bus service will run between HKCEC and AsiaWorld-Expo at regular intervals during the two fairs.