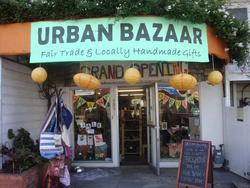 Many of the craftspeople who sell their wares in our store are truly innovative
San Francisco, CA (Vocus) November 19, 2010
Urban Bazaar, a new handcrafted gift shop in San Francisco, is quickly becoming a trendsetter in the local craft scene. Along with sourcing handmade, fair trade merchandise from across the globe, Urban Bazaar seeks out talented artists from the Bay Area and beyond to fill the store's shelves with unique jewelry, accessories, and home décor gifts. Urban Bazaar also hosts a variety of crafting events.
"Many of the craftspeople who sell their wares in our store are truly innovative," says Brandi Chalker, one of Urban Bazaar's two owners. "Quite a few of our products are creatively recycled and re-purposed. Julien Jaborska from Portland makes our fashionable, durable belts from recycled bike tires. And our journals from Spiral Binding are made right here in San Francisco from vintage books. We also recently began carrying the 'Detroit Diamonds' line of jewelry made in San Francisco by Detroit-native, Cory Egan. Her stunning, handcrafted sterling jewelry features one-of-a-kind pendants filled with auto glass that she picked up on the streets of Detroit."
Urban Bazaar aspires to be known as more than just a place to shop. "We want to inspire people to create art, too," says Briana Bers, co-owner of Urban Bazar. "By hosting monthly 'Bring Your Own Project' craft nights in the store, we open up our space for people who are looking for inspiration. You can come into the store after hours, meet other local crafters, enjoy free snacks and coffee, and work on a project. People often bring their knitting and sketching projects, but we've had people make jewelry, write zines—and once we even had a puppeteer sewing a costume for his puppet."
Urban Bazaar will also begin hosting monthly craft workshops in January. The workshops will cover a wide range of arts and crafts projects, such as making mosaics, knitting hats and scarves, sewing coffee cup cozies and flower broaches, and more. Often, the projects will incorporate recycled and re-purposed materials.
The next "Bring Your Own Project Craft Night" is scheduled for Sunday, November 21st, from 5:30-8:30pm at Urban Bazaar, 1371 9th Ave, San Francisco.
About Urban Bazaar
Urban Bazaar, opened in July 2010, is an independent San Francisco gift shop specializing in Fair Trade and locally handmade crafts. Their mission is to provide customers with creative, high quality, handcrafted goods that are affordable, eye catching, ethically sourced, and eco-friendly. Located at 1371 9th Ave (between Judah and Irving Streets), hours are Tuesday-Saturday 11-7pm and Sunday 9:30-5pm, with extended holiday hours during the month of December.
# # #